Europe Shares Slip in Late Trading, Trimming Record Monthly Gain
(Bloomberg) -- European stocks slipped in late trading on Monday, but still managed to post their biggest monthly gain ever, with a sharp rotation into value shares sending the Stoxx Europe 600 Index up 14% in November.
The benchmark index fell 1% on the day, with energy and banking stocks the worst performers, though both sectors still gained more than 30% in November. European equities saw some selling pressure into the close, with a spike in Euro Stoxx 50 futures volumes. About 200,000 contracts traded in the five minutes leading into the European closing bell, about 20% of the average daily volume over the past 20 days.
JPMorgan Chase & Co. upgraded euro area equities to overweight earlier, while cutting the U.S. market to neutral, with strategist Mislav Matejka saying a potential bounce in relative earnings for Europe "could be on the cards."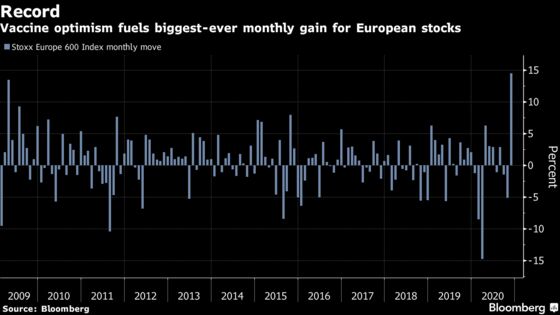 Still, many investors are considering the risk of a pullback, according to Berenberg strategist Jonathan Stubbs. "While we would not be surprised by any near-term weakness in equity markets, we continue to expect significant support for higher share prices in 2021," Stubbs wrote in a note to clients. In a recovery environment there is "little alternative" but to look to equities to deliver positive real returns, he added.
Among individual stocks, ABN Amro Bank NV fell after revealing plans to cut the size of its workforce. Siltronic AG jumped after Taiwan's GlobalWafers Co. said it's in advanced talks to acquire the manufacturer of silicon wafers for 3.75 billion euros ($4.5 billion).