European Stocks Slip as Renault Sinks, U.S. Equities Weigh
(Bloomberg) -- European equities slipped in afternoon trading, tracking a drop in U.S. stocks led by tech shares and after data showed wavering confidence among U.S. homebuilders. Renault SA's plunge after his CEO was arrested also weighed on sentiment.
The Stoxx Europe 600 Index was down 0.7 percent at 4:37 p.m. CET as a sell-off in the Nasdaq hurt European tech stocks, while the sobering message from a gauge of housing market sentiment added to investor concerns over the impact of interest rates. Renault slumped as much as 15 percent. The S&P 500 was down 0.9 percent, while Nasdaq Composite was down 1.8 percent.
European equities slumped last week as concerns over a possible no-confidence vote against Prime Minister Theresa May as well as persisting Italian budget woes pushed investors to exit. Traders continue to watch U.S.-China trade talks as tension between Chinese President Xi Jinping and U.S. Vice President Mike Pence curbed optimism that relations would improve at Group-of-20 meetings.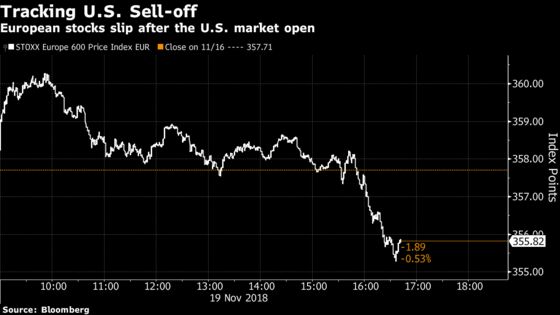 "Markets remain very jumpy, with significant negative sentiment and so even a single story can be enough to change momentum on the day," said John Roe, head of multi-asset funds at Legal & General Investment Management Ltd.