Europe Stocks Slide on Concern Rally Overdone Despite ECB Boost
European stocks fell from a three-month high on concern the rally has gone too far, with pessimism over U.S. jobless claims outweighing the European Central Bank's stimulus boost.
The Stoxx Europe 600 Index fell 0.7% at the close, after briefly rising as much as 0.2% after the ECB expanded its stimulus program. Real estate was the only sector out of 19 industry groups to gain, with carmakers sliding the most.
Bleak jobless data from the world's biggest economy, including continuing claims that rose more than forecast, dampened investor spirits.
Stocks are falling for the first time in four days, after rallying in the run-up to the ECB's meeting. The rebound had gathered pace since mid-May as markets cheered the easing of lockdown measures and stimulus plans.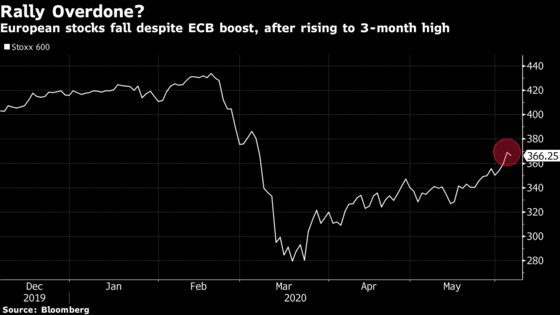 Banks were little changed, outperforming the broader market after the ECB added 600 billion euros ($675 billion) to its pandemic emergency purchase program, which it will extend until the end of June 2021. The central bank will also reinvest maturing PEPP bonds until at least the end of 2022.
The ECB's boost to the pandemic purchase program "reflects the 'we will do what it takes' mentality of central bankers," said Neil Birrell, chief investment officer at Premier Miton.
Among individual stocks, Remy Cointreau SA jumped 11% after the French distiller improved its forecast for first-quarter sales.