Europe Stocks Fall Back as Traders Turn Cautious on Brexit Deal
(Bloomberg) -- European shares opened lower, reversing Tuesday's rally in late trade, as traders turned cautious on the Brexit deal ahead of a U.K. cabinet meeting later in the day.
The Stoxx Europe 600 was down 0.8 percent, with oil & gas and basic resources in the bottom of the list. The auto & parts sector was one of the few winners, as the U.S. is said to hold off on imposing new car tariffs after a trade meeting.
"Market participants are cautious regarding the U.K.-EU Brexit agreement as such an agreement is likely to have come at relatively high price for U.K. and more likely there is going to be a tug of war to have the Cabinet endorse it," said Stephane Ekolo, equity strategist at TFS Derivatives.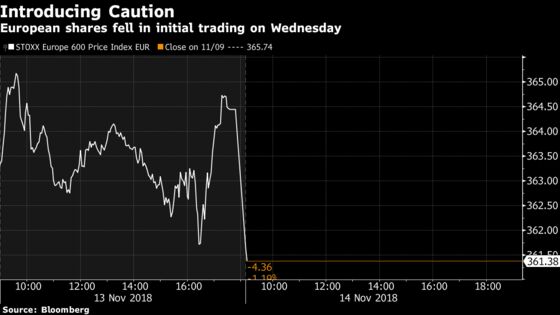 Elsewhere, Italian banks including UniCredit SpA and Intesa Sanpaolo SpA were again in focus after Rome submitted a marginally revised budget, defying EU demands to lower its deficit target. The FTSE MIB was down 1.4 percent.