Europe Shares Slip Before Fed; U.K. Large-Caps Rise on Pound
(Bloomberg) -- European shares slipped as investors awaited the Federal Reserve's policy meeting. U.K. large-caps gained as sterling fell amid renewed anxiety over Brexit.
The Stoxx Europe 600 dropped 0.1 percent as of 8:04 a.m. London, with telecom and health-care stocks leading declines. LVMH jumped to the highest since November after it reported fourth-quarter sales that beat expectations and gave a bullish outlook. The FTSE 100 Index climbed 0.6 percent.
The market focus on Wednesday is on whether the Fed will signal any changes to the outlook after a meeting where it's expected to keep interest rates on hold. In the U.K., the pound fell after Prime Minister Theresa May promised to renegotiate her Brexit deal, buoying large caps whose overseas earnings benefit from a weaker currency. With the EU warning it won't consider May's demands and amendments to delay Brexit defeated, the risk of a no-deal divorce is rising again.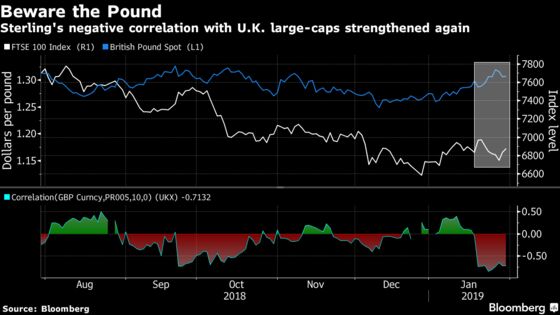 It's an "unsurprising outcome but one which leaves hard Brexit on the table," said David Holohan, a strategist at Mediolanum Asset Management Ltd in Dublin. "That will likely unnerve investors in the days and weeks ahead, especially negatively impacting sentiment towards domestic orientated sectors."
This week also brings macro data from several European countries. France's economy expanded 0.3 percent on a quarterly basis, exceeding economists' forecasts, as a surge in exports helped growth to weather disruptions from the Yellow Vest protests. Spain, Italy and the euro-zone report numbers on Thursday.