European Markets' Two Biggest Fears Return to Reverse Gains
(Bloomberg) -- It's all about politics this Monday in Europe.
The Stoxx Europe 600's earlier gains quickly dissipated, with the benchmark down 0.3 percent at 9:20 a.m. in London. The earnings season is entering its back half, but traders are parsing morning newspapers as European markets' two biggest political stories returned to dominate sentiment.
First, Brexit. Hopes for an imminent deal were dashed amid speculation U.K. Prime Minister Theresa May will have to abandon her divorce proposal amid crumbling parliamentary support. Pro-European Union Transport Minister Jo Johnson's Friday resignation was another sign of May's weakness.
The pound plunged, which means -- as usual -- that the FTSE 100 managed to be among the few European markets in the green, while the U.K.'s mid-cap index is sliding.
Next, Italy. It has until Tuesday to submit another budget or risk disciplinary action from the EU. Investors have been worried for much of this year that the country's aggressive spending plans will cause a rupture with the EU while its rising sovereign bond yields pressure banks' balance sheets. A showdown now nears, with Italy expected to stand its ground. The euro, whose relationship with shares in the single-currency bloc has been less predictable, dropped to the lowest level since June 2017.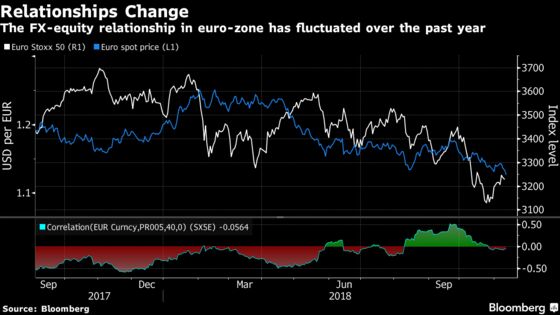 "The chances of a Brexit deal are diminishing rather than increasing as we approach the finishing line," Jasper Lawler, head of research at London Capital Group, wrote in a note. Meanwhile, "Rome is expected to defiantly stand by the main pillars of its previous budget."
The problem for investors is that both problems look set to continue roiling markets for a while to come. No quick resolution is in sight, and no one looks ready to compromise.
The only patches of light for equity watchers this Monday are energy and basic resources. The former is aided by a rebound in oil prices on expectations for supply cuts.
British American Tobacco Plc lost a staggering 11 percent after a report that the U.S. may pursue a ban on menthol cigarettes, with Morgan Stanley saying the company's profits are vulnerable.
SAP SE will buy Qualtrics International Inc. for $8 billion in its biggest-ever deal; the stock is down 3.8 percent.
Nyrstar NV plunged to a record low after ABN Amro said debt structuring for the company is inevitable and will likely wipe out existing shareholders.
Diageo Plc agreed to sell 19 brands to U.S. distiller Sazerac Co. for $550 million in a bid to focus on higher-end labels.