Europe Shares Gain For Second Day on Trade and U.S. Shutdown Hopes
(Bloomberg) -- European stocks rose after an upbeat Monday amid optimism over U.S.-China trade talks and the aversion of another partial government shutdown in America.
The Stoxx Europe 600 added 0.6 percent as of 8:07 a.m. in London, led by auto and chemicals sectors. Thyssenkrupp AG fell 1.9 percent after reporting a plunge in profits. Plus 500 slid 38 percent after it said 2019 earnings will be much lower than estimates.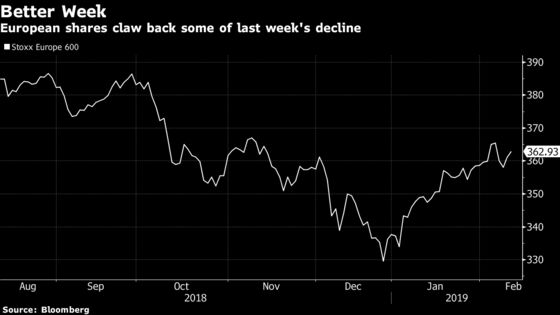 Asian shares advanced along with U.S. equity futures as the Trump administration said the President wants to meet with his Chinese counterpart "very soon," spurring hopes a deal may be reached before the March 1 deadline for a truce. U.S. Congressional negotiators also arrived at a tentative agreement on border security that could keep government agencies open.
"Market participants may well cheer news that the U.S. government will avoid another shutdown this week end and optimistic comments regarding trade talks," said Stephane Ekolo, equity strategist at TFS Derivatives in London. "That being said, on the earnings front the picture appears less rosy."
Among companies that also released results on Tuesday, Michelin jumped 9 percent after it forecast a resilient 2019. Kering SA, which owns Gucci, fell even after sales signaled healthy Chinese appetite for luxury.