Europe's Stocks Fall as Souring Sentiment Lingers in Market
(Bloomberg) -- European shares traded lower on Tuesday, following declines in Asia and the U.S., with uncertainty and the U.K. Parliament's vote on Brexit set to be prolonged into next year.
"With sentiment sour and trends negative, few really care about the fundamentals," said Martin Guri, head of Nordic strategy at Kepler Cheuvreux. "This year is already over for most traders and portfolio managers."
The Stoxx Europe 600 Index fell 0.5 percent. The worst-performing sector in early trading was oil and gas, down 1.4 percent, followed by technology. European software stocks, including SAP SE, got some good news overnight from the U.S., as Oracle Corp. and Red Hat Inc. surprised positively with their respective updates.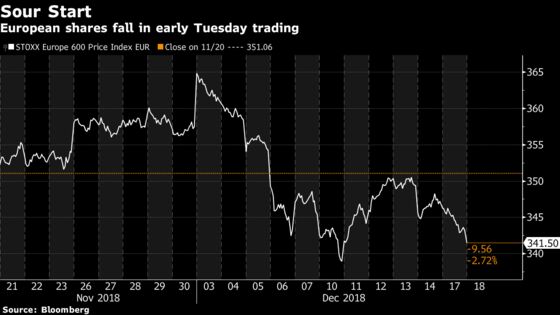 "With the bear market continuing to take a firmer grip of the market, expectations are very low of any positive news able to turn the market tide," Guri said.