Hedge Funds Target Firm That Bet $2 Billion on Hotels Pre-Covid 
(Bloomberg) -- A pre-pandemic buying spree of U.K. hotels and the arrest of its controlling shareholder have made Vivion Investments a favorite short bet among hedge funds trading Europe's credit market.
The property company invested more than 1.5 billion pounds ($2 billion) in British hotels just before Covid devastated the travel industry. Now, bonds issued by Vivion, a company controlled by Israeli tycoon Amir Dayan, are the most shorted in Europe, according to IHS Markit Ltd.
Speculators are predicting more pain for a firm that has more than half its real-estate portfolio tied to British hotels as the U.K. suffers through yet another national lockdown. The arrest last year of Dayan, his brother and his lawyer in an Israeli probe over personal taxes has only added to the market skepticism.
As much as 16% of the company's 1 billion euros ($1.2 billion) of bonds are currently on loan to investors seeking to profit if the price drops, IHS's Director for Securities Finance Sam Pierson said in an interview.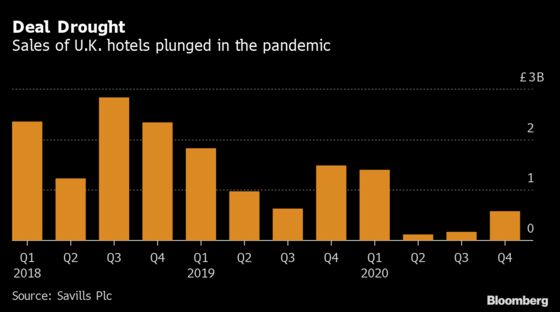 The hospitality industry became one of the worst hit of the Covid-19 pandemic as international travel collapsed and entire countries were subjected to stay-at-home orders. Even when many countries eased lockdowns over the 2020 summer months, traveler numbers remained well below pre-pandemic levels.
That dealt a hammer blow to many property investors with exposure to the sector. Land Securities Group Inc., the U.K.'s second largest real estate investment trust, wrote down the value of its portfolio of leased hotels by more than 13% in the six months through September.
However, Vivion says its business has held up well and its bonds are higher than where they started the year. The collection rate on its U.K. hotels was running at 94% for the fourth quarter of 2020, "with some of the rents deferred, but not lost," according to a joint statement from Ella Raychman, its chief financial officer and Sascha Hettrich, chief executive officer.
They added that the company has plenty of cash after securing a 565 million-euro loan in the third quarter of 2020, which remains undrawn, and selling a London hotel at 28% above book value in January last year.
"Vivion's business has remained resilient during the Covid-19 pandemic," they said.
The company's 700 million-euro bond maturing in 2024 is currently quoted above 95 cents on the euro, according to data compiled by Bloomberg.
Vivion grew its investment portfolio by around 80% to 4 billion euros between the end of 2018 and mid 2020, according to filings, focusing on U.K. hotels and German commercial properties. To help finance that growth, the company raised 1 billion euros from high-yield bond investors in 2019.
Vivion said in its statement that its portfolio is evenly split between the U.K. and Germany, with over 90% of the German exposure invested in offices. During the fourth quarter of 2020, it signed "several material lease contracts with governmental tenants in Germany."
Read more: Amir Dayan's Vivion Investments Plans Inaugural High-Yield Bond
The firm now owns the Sanderson and St. Martins Lane hotels in London's West End -- bought for 225 million pounds from Qatari investors, weeks before the pandemic hit, and portfolios of Hilton, Crowne Plaza and Holiday Inn-branded premises throughout the U.K., according to filings.
Vivion acquired its portfolio of Hilton hotels for 246 million pounds in February 2019, people familiar with the matter said at the time. Five months later, the company valued those hotels at 369 million pounds in a bond prospectus.
The virus halted the buying spree, forcing it to take a valuation loss of more than 51 million euros on its U.K. assets in the first half of last year, according to its most recent financial report.
Read more: Vivion Bonds Drop After Dayan's Lawyer Detained in Tax Probe
Pressure on the business from Covid comes at a delicate time for Vivion. After Dayan, his brother and lawyer were arrested and later released on bail last year in relation to the Israeli tax probe, the company's bonds fell to around 90 percent of their face value, according to data compiled by Bloomberg.
JPMorgan Chase & Co. strategists cited the potential for the tax investigation to leave the Dayan family facing a hefty bill as a central reason for issuing a "sell" recommendation on Vivion's bonds this week.
The business performed well through the pandemic, its assets are high quality and liquidity is healthy, the strategists said. Nevertheless, the founder may need to raise cash by calling for repayment of a loan to the company or selling assets to the firm at an inflated price, they said.
The Dayan family, which rejects the tax allegations, said the probe will in no way affect its business interests.
"The ongoing review of Mr. Dayan's personal tax returns in Israel is not related to and does not in any way affect companies in which Amir Dayan has an interest," the Dayan family office said in a statement,
Separately, Vivion said it has "no reason to believe that the private matter of Mr. Dayan could in any way impact the company or its stakeholders."