Europe's Lack of 'Cool' Stocks Dooms Race Against Wall Street
(Bloomberg) -- European stocks just can't catch up with the U.S. The main reason: Most of investors' favorite millennial tech stocks are listed on Wall Street.
With the likes of Twitter Inc. and Netflix Inc. up more than 80 percent this year, New York's outperformance of Europe in 2018 is easily explained. It's also hard to change.
"It's the cool tech stocks that Europe is lacking," said Max Kettner, a cross-asset strategist at Commerzbank AG in London. "It's tough to see Europe outperforming the U.S."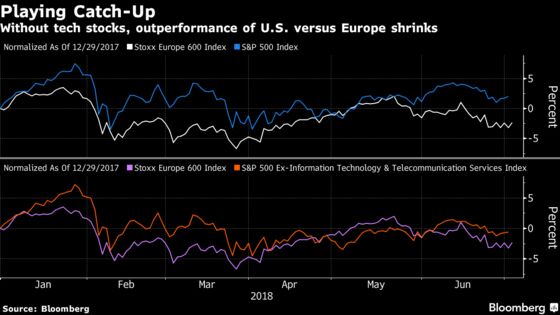 A look at the performance of the regions' main equity benchmarks shows what a difference the imbalance makes. While the S&P 500 is up about 2 percent this year, the Stoxx Europe 600 is down more than 2 percent. But if you exclude tech and telecom services shares from the S&P 500, the gap shrinks significantly, with the U.S. gauge falling 0.9 percent.
And even though European tech stocks are one of the region's best-performing sectors this year, their share in the Stoxx Europe 600 is a meager 4.7 percent, compared with 26 percent in the S&P 500.
Of course, there are other reasons why Europe remains a laggard. Earnings growth in the region trails the U.S. at a time when political volatility in Spain, Italy and Germany is keeping investors on their toes.
When the euro began its slide in April, some analysts, including those at Legal & General Investment Management Ltd., had hoped this could spur outperformance by European equities due to support for exporters. According to Commerzbank's Kettner, this theory fell down because investors instead focused on the negative reasons behind the euro's weakness, such as the threat of U.S. tariffs.
The comparison between the two benchmarks is also not in Europe's favor on a longer-term horizon, with the S&P 500 up about 120 percent over the past 10 years and the Stoxx 600 gaining 34 percent. European profit growth is seen at 6.1 percent this year and 8.6 percent in 2019 compared with 23 percent for the U.S. companies in 2018 and 11 percent next year.
"If we take tech out of both indices, then the gap is smaller; indeed a useful exercise is to sector-weight the two indices equally and then the comparison is fairer," Andrew Milligan, head of global strategy at Aberdeen Standard Investments, said by email. "However we have to accept the fact that U.S. earnings growth is much stronger than European, not just due to tech."
The S&P 500 Index dropped 0.5 percent on Tuesday led by technology shares after a Chinese court temporarily banned Micron Technology Inc. chip sales in the country. Tech stocks also were the biggest decliner among European sectors on Wednesday -- losing 0.8 percent.