Europe's Fund Managers May Have Lost $100 Billion in 4th Quarter
(Bloomberg) -- Want the lowdown on European markets? In your inbox before the open, every day. Sign up here.
Europe's money managers have been warning for months that the fourth quarter was bad for them. How bad? One estimate puts it at $100 billion.
That's the amount of client money that Europe's open-ended funds lost in the final three months of 2018 as markets whipsawed, according to Amundi SA. The French company alone saw outflows of $7.4 billion in that period amid an "extremely hostile" market, Chief Executive Officer Yves Perrier said on Wednesday. Other European companies have reported similar outflows.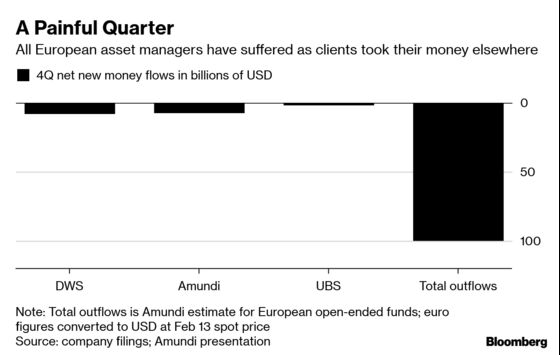 For now, money managers are sticking to their targets. Perrier still plans to attract at least 50 billion euros ($57 billion) annually through 2020 -- he missed that goal by 8 billion euros last year, Amundi confirmed in its latest results.
DWS Group CEO Asoka Woehrmann likewise didn't scrap his medium-term goal of bringing in about 20 billion euros per year, though he labeled the target as "ambitious" in a recent Bloomberg interview. Both Perrier and Woehrmann have said it's too early to make predictions for 2019.