Europe's Diesel Woes Deepen as Strike Halts French Oil Refinery
(Bloomberg) -- Europe's diesel market, already reeling from weeks of low water levels on the Rhine River, is now contending with a major supply disruption in France.
Total SA, France's biggest refiner, is in the process of shutting its largest plant in the country, the 247,000-barrel-a-day Gonfreville facility in Normandy, due to a labor dispute, a spokeswoman for the company said on Tuesday. A few hundred miles away, in the Netherlands, retail fuel stations are running out of supplies because of shipping constraints on the Rhine, according to Royal Dutch Shell Plc.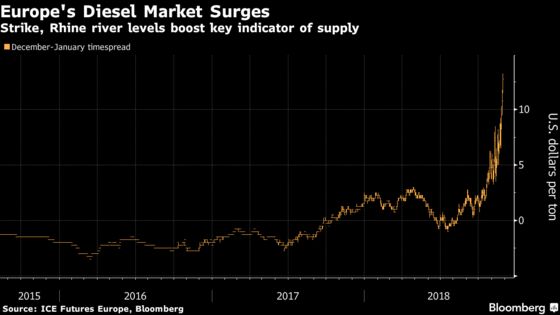 A key measure of diesel supply in Europe -- the gap between immediate prices and later ones -- is surging, indicating shrinking short-term fuel availability. The December-January spread surged as high as $13.25 a metric ton on Tuesday, the highest since the contract began trading.
The same industrial dispute that halted output from Total's Gonfreville refinery also blocked shipments out of two other plants, according to the spokeswoman. The spat comes at an awkward time for France, which has experienced days of protests about plans to hike a fuel levy.
It's also challenging for the wider European diesel market. Shell said Nov. 20 that it cut production at its Rheinland refining site, the biggest complex of its kind in Germany, due to low water levels on the Rhine. In a tweet on Tuesday, the company said that it was temporarily unable to supply some unmanned fuel stations in the Netherlands.
Gas stations in Germany had already been running dry due to the situation on the Rhine, a major petroleum product transportation corridor that runs northwest from the Swiss Alps all the way to the Netherlands. Switzerland released emergency fuel stockpiles because of the situation on the river.
READ: Nov. 2 story about the Rhine's impact on diesel markets
Stockpiles of diesel and gasoil in northwest Europe's trading hub have fallen for the past six weeks to about 2.1 million tons, their lowest level since late June. The premium per barrel of diesel over Brent crude - another indicator of market strength - was at $15.96 on Tuesday, the highest for the time of year in six years.