Europe's Diesel Market Flashes Tighter Supply as Texas Freezes
(Bloomberg) -- Europe's moribund diesel market is finally showing signs of tightening as the coldest weather in parts of the U.S. in years sees traders snapping up tankers to export the fuel across the Atlantic.
The continent's forward curve for diesel -- ICE Gasoil futures -- has flipped into a structure known as backwardation, whereby nearer-dated contracts trade at a premium to later ones. Aside from the blips that can occur when an immediate contract is expiring, it's the first time this relatively bullish structure has occurred in almost a year.
"The switch to backwardation is a signal that supply is tightening, with the large amount of U.S. refining capacity offline and forthcoming maintenance on both sides of the Atlantic," said Jonathan Leitch, director of EMEARC consulting at Turner, Mason & Co.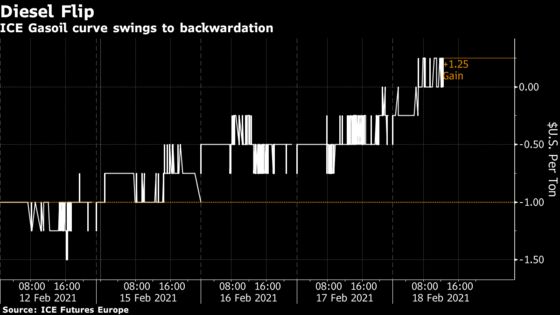 Freezing conditions in Texas have caused widespread disruption to the U.S. refining sector, hitting the country's fuel production. Traders have been busily booking tankers to ship cargoes of diesel across the Atlantic, tightening Europe's own supplies. The charters include options to sail to the U.S., as well as other destinations.
The value of diesel relative to crude oil in northwest Europe, known as its crack, has also been rising, hitting the highest so far this year earlier in the week. Even so, the indicator is still only about half the seasonal norm because demand for the fuel has been hammered by Covid-19 travel restrictions across the continent, which have resulted in less passenger driving.
ICE Gasoil futures are physically settled, meaning the shape of the forward curve has a direct link with buying and selling of the fuel.