Europe Loan Market in Lull as Mad Dash for Cash Becomes History
(Bloomberg) -- European loan issuance by companies has plummeted since last year's record-breaking rush for cash, as borrowers turn to the better terms offered on other types of debt such as bonds.
Loan sales for Europe, the Middle East and Africa fell 43% to 227 billion euros ($272 billion) between January and April from a year-earlier, according to data compiled by Bloomberg. It's a far cry from April 2020, which saw record loans of 157 billion euros as companies rushed to raise short-term emergency funding in the face of a spreading pandemic.
Volumes would be even lower if they weren't supported by a 25% increase in leveraged issuance, which accounts for around one-third of the region's overall loan market.
Now, as vaccination programs gather pace across Europe and economies reopen, companies are replacing those funds with later-maturing and cheaper debt -- it costs around twice as much for investment grade companies to borrow in the loan market over five years compared with the bond market.
In contrast to the dearth of investment-grade loan supply, the region's market for newly minted bonds is firing ahead. On Thursday alone, 11 issuers including Banco Santander SA and stock exchange Euronext NV may price at least 6.2 billion euros.
Loan demand, specifically from high-grade companies, "has been covered by an exceptionally high volume in the fixed-income markets," according to Reinhard Haas, Frankfurt-based head of syndicated finance at Commerzbank AG. Borrowers, such as Deutsche Lufthansa AG and Thales SA, have turned to repay some of their debt by raising funds in the bond market where yields have tumbled since the peak of the crisis.
Around a third of the 181 billion euros of emergency funding raised in the loan market last year has either been repaid, canceled or replaced by longer-maturity financing. About 116 billion euros of virus loans from 2020 remains outstanding, and 24 billion euros are due by the end of this year, according to data compiled by Bloomberg.
Besides the short-term liquidity lines, companies also drew down 72 billion euros from existing credit facilities mostly in March and April last year. Only 13 billion euros of those used funds have been replaced.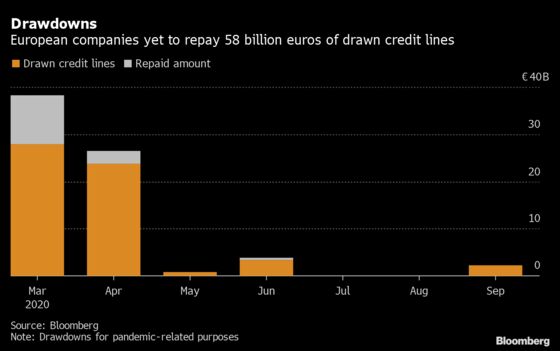 However, many of the emergency credit lines and companies' revolving facilities come with extension options, delaying the need to refinance in the market. U.K. travel-services provider Saga Plc, for example, extended its loans while amending covenants for greater financial flexibility in March.
Even so, the loan market remains a lifeline to the hardest-hit sectors of the Covid era, including airlines and leisure companies after a year of shuttered venues and grounded aircraft fleets.
Easyjet Plc and International Consolidated Airlines Group SA are among borrowers to tap the market this year, while 15 companies including Intercontinental Hotels Group Plc and pub chain Fuller Smith & Turner Plc have sought covenant waivers or looser financial terms.
Click here for a worksheet of pandemic-driven loan transactions in Europe.
Measures of investment grade and high-yield credit default risk are rising on Thursday, after falling during the previous trading session.
In the syndicated bond market, Emirates Telecommunications Group Co PJSC and Westpac Banking Corp are among the names pitching euro-denominated deals
On the earnings front, Societe Generale SA turned in its best equities-trading performance since 2015, rebounding from a disastrous quarter a year earlier as it struggled with market volatility

ING Groep NV beat profit estimates in the first quarter after joining other European lenders in putting aside less money for soured loans
Italy's second-largest lender UniCredit SpA also posted stronger-than-expected first quarter results on surging trading and lower bad loan provisions
A glance at indicators for Asian credit tells an optimistic story: spreads not far from the tightest levels since the pandemic, record issuance and even sectors like aviation now easily issuing debt amid reopening bets.
Issuers from the aviation industry were in focus in Asia's primary dollar bond market on Thursday with BOC Aviation offering 3-year notes and Cathay Pacific mandating banks for dollar debt sale which would be its first since the 1990s
Emerging-market local bonds won't be able to build on the gains they had in April as real interest rates in most developing nations have dipped into

negative territory

, according to HSBC Holdings Plc
Hertz Global Holdings Inc. said a proposal from Knighthead Capital Management and Certares Management to buy the car renter out of bankruptcy was superior to an existing offer from a rival investor group.
JPMorgan Chase & Co. led a five-deal, $4.9 billion investment grade session on Wednesday as borrowers achieved attractive pricing outcomes

In high yield, three companies raised about $4.4 billion in the primary market, with each borrower achieving good price progression during the syndication process

For deal updates, click here for the New Issue Monitor
For more, click here for the Credit Daybook Americas