Europe Kicks Off Friday Trading With a Smile, as Stocks Gain
(Bloomberg) -- European shares took their cue from Asia and U.S. and gained in early trading. With earnings season slowly starting, the performance of individual companies were the focus of investors.
"In the absence of negative news investors are willing to carefully increase equities as the struggle for returns continues this year, but sentiment remains cautious," said Lippo Suominen, chief strategist at Finnish asset manager FIM.
The Stoxx Europe 600 Index rose 0.8 percent on Friday, with autos, oil and gas, banks and basic resources at the top end. Ryanair Holdings Plc cut its fiscal 2019 profit guidance, citing cheaper ticket prices and over-capacity, turning the focus on other low-cost airlines. The tech and media sectors were in green even after streaming firm Netflix Inc. disappointed with its fourth-quarter sales.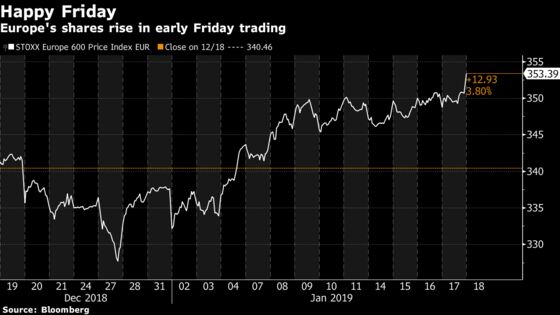 Investors have received a mixed set of news as the probability of a hard Brexit is increasing while at the same time new China stimulus and perhaps some progress, or at least willingness to compromise, in trade negotiations gives investors hope, said Suominen.
"Earnings season has not brought any major negatives either," Suominen said.