Europe Gains as Some Negativity Seen Priced In Already
(Bloomberg) -- European shares gained at the open, trailing Asian and U.S. markets. The shadow of Brexit remains, with U.K. politicians resuming the debate on Prime Minister Theresa May's Brexit deal on Friday.
The Stoxx Europe 600 Index rose 0.2 percent in early trading, with most sectors in the green. Oil is set for its biggest weekly gain in two years. Volkswagen AG's sales report later on Friday will be closely watched by the market. Elsewhere, Cie Financiere Richemont SA saw its sales growth held back after protests in France and slowing growth in Hong Kong.
The news flow remains mainly negative, but quite a bit of this has already been priced in, said Lippo Suominen, chief strategist at Finnish asset manager FIM. "Investors are worried but don't dare to short equities as there is a clear risk of positive short-term market moving announcements."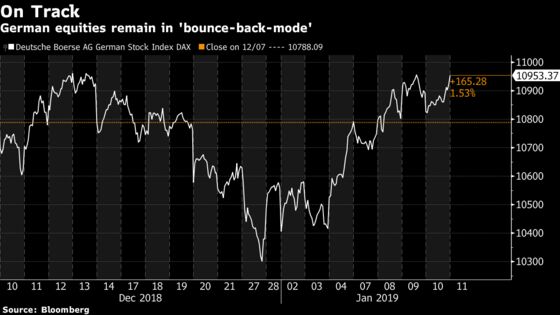 "Next all eyes will turn to the fourth quarter earnings season that kicks off in the U.S. next week," Suominen said. "Earnings growth is slowing clearly from past quarters but investors want to hear what companies are saying on the outlook for the coming year. Very cautious comments are expected that will keep the markets shaky also going forward."