Italy Yields Hit Post-2014 High as Borghi Nods to 'Own Currency'
(Bloomberg) -- Italian assets were roiled yet again after a prominent euroskeptic said that the nation could resolve its debt problems with its "own currency."
The yield on the nation's 10-year bonds touched the highest level in more than four years after Claudio Borghi, head of the lower house budget committee, said the euro was "not sufficient" to solve Italy's fiscal issues. Though he played down his comments subsequently, the euro declined.
Borghi's comments come at a time of intense vulnerability for Italian assets, which have been battered amid investor concern over the country's proposed budget deficit of 2.4 percent for 2019. Plans by the populist coalition to boost spending to fulfill campaign pledges are fueling speculation over the sustainability of the nation's debt load.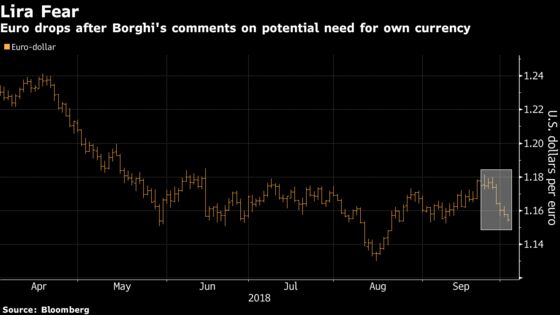 "It has brought up these old Italexit fears which are weighing on the euro," said Thu Lan Nguyen, a foreign-exchange strategist at Commerzbank AG in Frankfurt. "This is what this whole issue is really about -- whether there is a break up of the euro zone or not."
Borghi, however, said later that the government has no plan to exit the euro.
"There is no plan to leave the euro within this government regardless of my personal conviction," he told Bloomberg Television. He also defended the budget target, saying, "we did not get the 2.4 percent deficit number out of a bag."
Italian Prime Minister Giuseppe Conte dismissed Borghi's remarks as "personal opinion".
Italian 10-year yields rose 14 basis points to 3.44 percent, the highest since March 2014. The spread over their German peers climbed 20 basis points to 302 basis points. The euro dropped as much as 0.6 percent to $1.1505, the lowest level since Aug. 20.
The FTSEMIB Index of shares fell as much as 2 percent to the lowest level since April 2017, before paring losses. Shares of Banco BPM were halted for trading after falling 5 percent.
Jean-Claude Juncker, president of the European Commission, said that "we have to do everything to avoid a new Greece." The beleaguered nation is still sub-investment grade for all four of the credit-rating agencies. Italy is due for review by Moody's Investors Service and S&P Global Ratings later this month. Both have the nation two notches above junk.
Toronto-Dominion Bank warned that the euro could drop as low as $1.13, which would be the lowest level in more than a year should political headlines keep emanating from the euro area's third-largest economy.
"The situation is going to play out repeatedly over the next several weeks and markets will need to re-calibrate to the rhetoric," said Ned Rumpeltin, European head of foreign-exchange strategy. "It is likely to remain a slow-burn story for the EUR, but one that will go hot when we have fresh developments."