German Markets Hint at Austerity Easing Across EU on Merkel Exit
(Bloomberg) -- The moves may be tricky to separate from a broader market rebound, but for some, Monday's decline in German bunds and rally in stocks shows investors believe Angela Merkel's political decline will open the door to greater government spending.
Bunds led a drop in euro-area government debt, while domestic shares rose the most since April after Merkel said she won't seek re-election as leader of the Christian Democratic Union in December and won't run to be chancellor in 2021.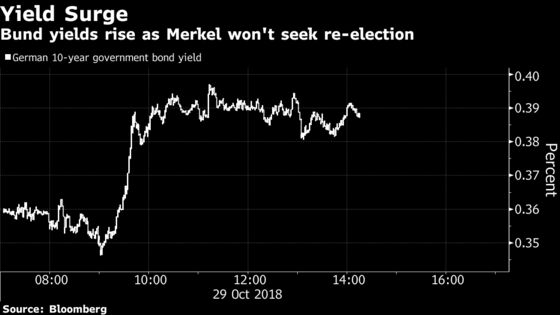 The euro fell initially on the news as investors pondered the fate of political risk in a region that is already witness to a standoff between Italy and the European Union over the former's budget-deficit projection. Any decline in Merkel's political stature is likely to be seen by investors as a loosening of the fiscal discipline that became a hallmark of her tenure, during which she demanded austerity and economic overhaul in return for bailouts in countries such as Greece.
The DAX index was up 2.2 percent, the most since April 5, in a broad rally led by shares in automakers. The sector was boosted by news that China is considering cutting a tax on most cars in half to jump start flagging sales in the world's largest automotive market.
News that Merkel will not seek the party leadership again is sparking speculation among equity traders of a German stimulus, said Stephane Ekolo, equity strategist at TFS Derivatives. "Investors are coming back on the DAX, which is also helped by news on the Chinese tax."
The yield on German 10-year government bonds climbed four basis points to 0.39 percent, while the euro weakened 0.3 percent to $1.1371.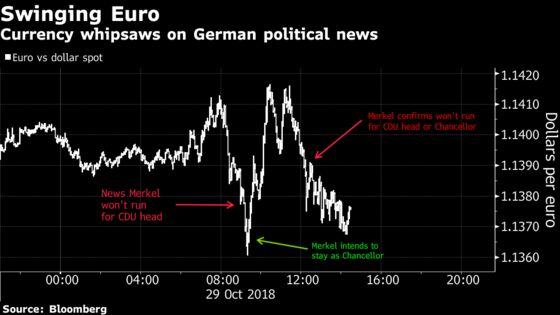 Still, with a clear successor to Merkel not yet known, the exuberance in stocks stemming from hopes for looser fiscal policy may be contained. CDU General Secretary Annegret Kramp-Karrenbauer and Bundestag President Wolfgang Schaeuble could be potential candidates to replace her.