Euro Falls as ECB Signals Rates to Be Frozen Through Summer 2019
(Bloomberg) -- The euro slumped, European stocks rose and German bunds rallied after the European Central Bank countered the tapering of its bond-buying program with a plan to hold down interest rates through at least the summer next year.
Bunds rallied across the curve as money markets priced in a 10-basis point increase to the deposit rate in September 2019, compared with 15 basis points on Wednesday. Policy makers, however, set a December end date for their 2.6 trillion euro ($3.1 trillion) asset-purchase program in the latest sign that years of loose monetary policy are coming to an end.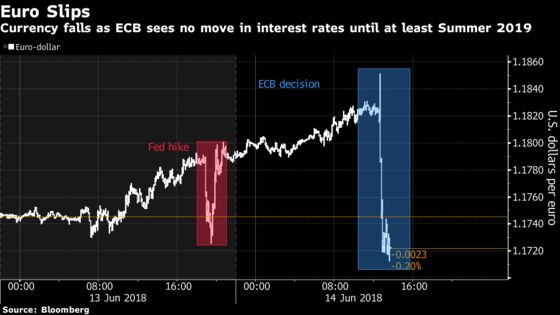 German bonds have been among the biggest beneficiaries of the ECB's purchases since the inception of the program in 2015, with yields dropping to record lows and even briefly falling below zero percent in 2016. The central bank has held its deposit rate at minus 0.40 percent for more than two years, having not raised it since 2011.
"The reaction shows that the market had so far assumed that the end of QE would mean the start of a normalization process, which it is not," Thu Lan Nguyen, a strategist at Commerzbank AG, said in emailed comments. "What matters for the currency is when rates will rise in the euro zone, and the ECB has now made clear that there will be no step until at least autumn next year."
The euro fell as much as 1.3 percent to $1.1642. The slump was the biggest since Oct. 26, precisely the day when policy makers announced that they would reduce the pace of bond-buying by half from 60 billion euros, though extending the length of asset purchases.
German 10-year yields dropped four basis points to 0.45 percent, while those on similar-dated Italian notes declined six basis points to 2.75 percent.
The Swiss franc was also a beneficiary of the ECB's dovishness, rallying 0.5 percent against the euro. European stocks added 1.4 percent, led by automakers, telecom and oil shares, while banking shares were little changed.
At a press conference subsequent to the release of its policy statement, policy makers unveiled revisions to the economic outlook.
The ECB cut its euro-area GDP growth forecast for this year to 2.1 percent from 2.4 percent
The central bank raised its inflation forecasts for 2018 and 2019 to 1.7 percent from 1.4 percent
"Bunds are rallying, most likely due to the rate outlook being tied in with a sustainable inflation path," said Orlando Green, a strategist at Credit Agricole SA. "The statement does look dovish but still in line with our call for the first hike coming in September 2019."
Expectations for an end-date to quantitative easing grew after the ECB's chief economist Peter Praet signaled that Thursday's meeting could be pivotal. Some fears that the central bank may delay its announcement because of heightened political risks were swatted aside, with Draghi describing the blow-up in Italian yields as a local episode without contagion.