Euro-Area Confidence Slips Amid Longer Curbs, Vaccine Trouble
(Bloomberg) -- Economic confidence in the euro area fell in January, after governments extended restrictions to contain the spread of the coronavirus and vaccination campaigns got off to a slow start.
A European Commission sentiment index dropped to 91.5 from a revised 92.4, driven by plunging optimism in retail trade and smaller declines in services and consumer confidence. The mood in the industrial sector improved.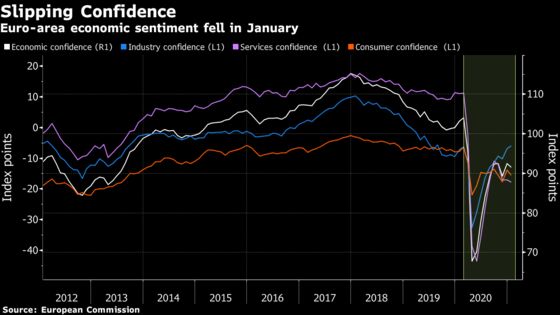 The survey adds to evidence of diverging economic trends. Most factories have remained open during the latest lockdowns, which have shuttered non-essential shops and service providers across much of the 19-nation bloc.
As a result, the euro area is likely to slip into another recession this winter amid protracted curbs on public life. Germany, the bloc's biggest economy, is keeping many retailers shut until at least Feb. 14, causing Chancellor Angela Merkel's administration to cut its prediction for economic growth this year to 3% from 4.4%.
The country, along with France and Spain, is set to release a first official estimate for the fourth quarter on Friday. A gauge for the entire euro zone is due next week.
Retailers said business was worse than expected in January and expressed concerns about the adequacy of the volume of stocks. Consumers were more pessimistic about their past and future financial situation and the general economic outlook.
In industry, order books improved for a seventh month, with demand from abroad a particular bright spot. Employment plans in manufacturing remained broadly unchanged, and worsened in retail trade and construction.
Concern about the euro area's economic prospects has risen at the start of the year. The European Union has fallen behind the U.K. and the U.S. with its vaccination campaign and the bloc's executive arm is mired in a public standoff with drugmaker AstraZeneca Plc over supplies of its shot.
The euro zone is already set to recover more slowly from the crisis than other economies around the world, the International Monetary Fund said this week. China is fulfilling a V-shaped rebound, and the U.S. faces an extra stimulus injection following the inauguration of President Joe Biden.
The European Central Bank kept its policy steady when it met last week, after boosting support in December. President Christine Lagarde has sought to assure investors that the institution will keep financing conditions "favorable" for the duration of the pandemic.
With a government crisis in Italy highlighting the danger of political difficulties derailing the recovery, she reiterated that its flagship 1.85 trillion-euro ($2.24 trillion) asset purchase program can be adjusted if needed. Policy makers have also highlighted another cut to the deposit rate -- already at a record-low -0.5% -- as a viable option.