EU's Top Met Coal Producer Cuts Output as Best Mine Hit by Virus
Poland's JSW SA, the European Union's largest producer of coal used by the steel industry, limited output at its most profitable mine after more employees tested positive for the coronavirus.
The number of Covid-19 cases at JSW rose to 71 on Sunday from 46 on Friday, especially at the Pniowek facility after the Health Ministry ordered more tests at mines of the Silesia region. The shares fell 1.7%.
The industrial region has became a hotbed for the country's coronavirus outbreak with nearly half of the 345 new cases reported on Sunday located in Silesia.
JSW plans to examine all 5,000 Pniowek mine workers and by Sunday afternoon it carried out 1,900 tests. It wants to avoid the fate of thermal coal miner PGG SA, which had to suspend operations at 3 of its 14 mines last week after more than 400 employees were diagnosed with the virus.
Pniowek, which produces about 12,000 tons out of JSW's total 40,000 tons per day production, is the company's most profitable unit, according to MBank SA's brokerage.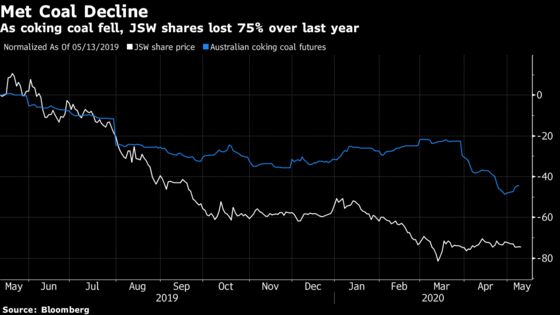 Even before the situation at Pniowek, state-controlled JSW already cut production by 23% due to workers' absence, but it planned to make up for the loss in the following months, Chief Executive Officer Wlodzimierz Herezniak told daily Rp.pl.
The company is using about 1 billion zloty ($240 million) of its rainy day fund to help prop up liquidity after one of its biggest clients -- ArcelorMittal -- closed a furnace in the country, while a global slump in steel demand and coking coal prices also worsened JSW's standing.
Both the company and its main labor union weren't immediately available for comment when reached by phone by Bloomberg News.