Ethical Label Is Hard to Verify in Secretive World of ESG Loans
(Bloomberg) -- The booming market for ethical loans is starting to raise questions about whether they actually live up to their promises.
Sustainability targets are usually not disclosed and it's often impossible for investors to hold companies to account on meeting environmental or social goals. While some industry associations are pushing for tighter guidelines and independent reviews, the loan market is a long way from the transparency of the rest of the ESG space.
"There are deals in the market where our house view is that the targets have been sub-par," said John Corrin, the Hong Kong-based head of corporate finance at Australia and New Zealand Banking Group Ltd.
Corrin, who declined to discuss specific loans, said his firm has pushed companies for more ambitious targets or rejected deals that didn't meet their standards.
A case in point is U.K. real estate developer Grosvenor Group. The company sealed a 1.1 billion-pound ($1.52 billion) "sustainability-ready" facility this month without disclosing verifiable targets in the form of key performance indicators (KPIs).
The loan will be converted to sustainability-linked facility within 12 months once agreed with lenders on ESG targets, a spokesperson said by email.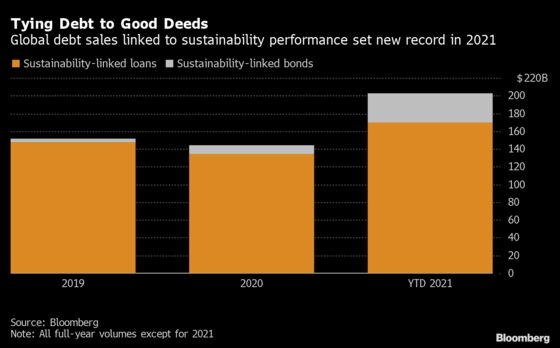 Ethical labeling can be hard to verify in a loan market that's notorious for its lack of transparency. In some cases, borrowers are securing loans with ESG labels before even setting environmental, social and governance targets for them.
A $100 million sustainability-linked loan from a joint venture of Dow Chemical and Turkish textile firm Aksa Akrilik Kimya Sanayii AS this month offered no details of targets in the public filing. A spokesperson for Aksa Akrilik wasn't available for comment when contacted by Bloomberg.
"It will be hard to see the impact of these loans on ESG if borrowers are not obliged to publicly report if they have achieved or missed the targets," said Nneka Chike-Obi, Hong Kong-based director of sustainable finance with Fitch Ratings.
It hasn't stopped investors from piling into the deals. The sustainability-linked loans market is flourishing, making up four-fifths of the $203 billion of financing tagged to environmental, social and governance goals raised globally so far this year. Sales in 2021 are already up more than 40% on the total for the whole of last year.
Loans amount to confidential agreements between companies and banks and aren't traded in secondary markets, and there's no way for investors to know what the terms are, unless the borrower provides the information voluntarily. That's different from publicly-traded sustainability-linked bond deals, where KPI targets are disclosed -- and borrowers agree to pay a penalty to lenders if they don't meet them.
Doubts about the booming market and its ESG claims have come to the notice of regulators in the European Union, in tandem with efforts in the U.S. to clamp down on ESG investing misconduct.
Loan market associations in Europe, the U.S. and the Asia Pacific region have sought to tighten guidelines for sustainability-linked loans. From June 3, for example, a borrower's compliance with KPIs has to be verified by an independent arbiter.
With so many companies wanting to join the green bandwagon and tout their ethical credentials, some are optimistic that the push for transparency will yield results.
"The sustainability-linked structure is a powerful tool to demonstrate companies' commitment to ESG, and encourage disclosures on their operations," said Ana Carolina Oliveira, New York-based head of sustainable finance with ING Americas.
At least 12 deals hit the primary bond market on Tuesday including a new 10-year issue from Spain, two offerings from KfW and a tier 2 note from Italy's Banco BPM SA.
Spanish oil major Repsol SA enters the second day of investor calls to promote its new sustainable debt for environmental projects
Scandinavia's biggest arranger of sustainable debt says investors will probably continue to favor green bonds over other more complex ESG fixed-income products for years to come
At least five investment-grade issuers dominated a surge in dollar bond deals Tuesday as issuers in emerging markets rush to lock in historically low funding costs.
Only about half or less of Chinese green securities meet global standards for what counts as green, according to Climate Bonds Initiative
South Korean coal-fired power plant operator Samcheok Blue Power Co. is struggling to sell 100 billion won ($88 million) of notes as investors become increasingly environmentally conscious
MORE: Investors Shun Bond Sale by Builder of Korean Coal-Fired Plant
Market players are expecting $15 billion to $20 billion in investment-grade sales in the next five days, slightly lower than recent weeks.
The high-yield market saw gun accessory maker Magpul Industries Corp. sweetening terms on its proposed bond sale after tepid response from investors
And interior decorating firm At Home Group Inc. kicked off a roadshow Monday for $800 million offering