Ether Outperforms Rival Cryptos Before Ethereum Network Upgrade
(Bloomberg) -- Ether has been outperforming other top cryptocurrencies over the past week ahead of an upgrade that will help its affiliated network become faster and more energy-efficient.
The world's second-largest cryptocurrency has risen about 10% since Oct. 19, while Bitcoin has dropped close to 3%, as of 8:35 a.m. in New York on Tuesday. Ether has also outperformed alternative digital tokens like Binance Coin and Cardano over the period.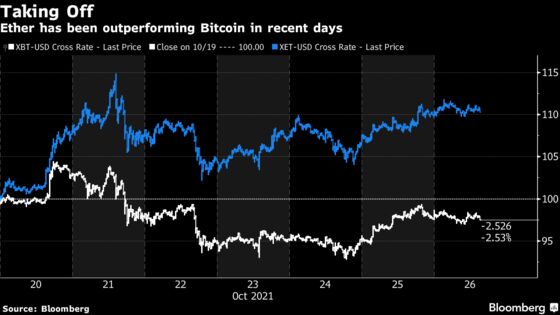 The gains come ahead of an upgrade due Wednesday that is expected to make the Ethereum network faster and more scalable, and could lead to lower fees for users. Ether has soared almost 1,000% in the past 12-months -- outstripping Bitcoin's 380% jump -- in part because of the network's popularity for applications like decentralized finance and non-fungible tokens. 
Like other cryptocurrencies, Ether is prone to big swings and lost more than half its value earlier this year, before recovering. It traded around $4,200 on Tuesday.
Bulls are also using the options market to position for a potential Ether futures exchange-traded-fund announcement, crypto liquidity provider B2C2 wrote in a recent report.
"The dollar value of Ethereum futures open interest rising to where Bitcoin was in July indicates that ETFs tracking the No. 2 crypto should be a matter of time," said Bloomberg Intelligence strategist Mike McGlone in a report Monday. "ETF providers have been discouraged by the SEC from launching products on Ethereum, but futures trading, demand-pull forces and competition suggest its inevitability."