U.S. Stock Futures Rise on Positive Results for Moderna Vaccine
(Bloomberg) -- Futures on U.S. stock indexes jumped after data published on a potential Covid-19 vaccine showed an encouraging response in a safety trial.
September contracts on the S&P 500 rose 1% as of 9:10 a.m. in Tokyo, while futures on the Nasdaq 100 climbed 0.7%. Results published Tuesday in the New England Journal of Medicine said Moderna Inc.'s drug produced antibodies to the coronavirus in all patients tested in an initial safety trial.
"I think it's very positive," said Peter Mallouk, president and chief executive officer of wealth management firm Creative Planning. "What we have is reaffirming what the market thought about its general optimism about a timeline of an improvement."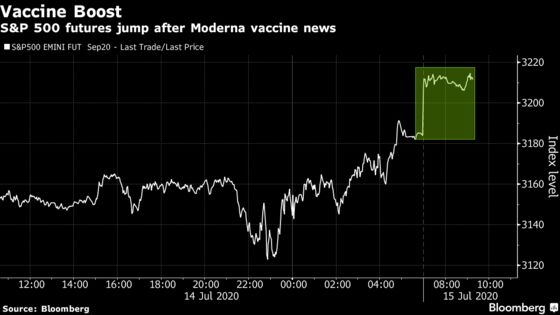 In the Moderna study, the neutralizing antibody levels produced were equivalent to the upper half of what's seen in patients who get infected with the virus and recover, according to the results published Tuesday. The Moderna vaccine is one of the farthest along for Covid-19.
The after-hours surge came after a volatile two days of trading. After briefly reaching the highest levels since the Covid-19 swoon in March, the S&P 500 reversed to end Monday down 1%. Then Tuesday, after a series of swings, the benchmark finished the day up 1.3%.
The Nasdaq 100 closed Tuesday's cash trading session up 0.8% to mark the first time since March that the tech-heavy gauge posted back-to-back reversals of at least 2% in opposite directions. Before this week, clusters of big contrasting reversals all occurred during bear markets.
The late day surge brought SPY, the ETF tracking the S&P 500, to $322 a share -- close to the level reached on June 8 that has acted as solid resistance.
With a health-care crisis at the heart of the financial crisis and recession, investors are scrutinizing every piece of data on Covid-19 or high-frequency metrics on the recovery. The Moderna news fits on the positive side of the ledger.
"I'd classify the last few days as discount the bad and amplify the good," said Max Gokhman, Pacific Life Fund Advisors' head of asset allocation. "The Moderna news is positive and there's no doubt that a proven vaccine is a major positive catalyst, so in keeping with the overall sentiment it makes sense that the markets would rally on the news."
Still he added: "But also let's be clear that the news we got is about positive progress, not any definitive proof of viability."