ETFs Stuffed With European Bank Stocks Finally Bring in Buyers
(Bloomberg) -- Call it bank bargain hunting.
Two Europe-focused exchange-traded funds with large holdings of financial stocks have started luring buyers after weeks of outflows or muted activity. Investors poured $123 million into the iShares Europe Financials ETF, or EUFN, on Tuesday, the most since December 2016. The fund has bled cash for months, with outflows in almost every week since the beginning of March.
In addition, the iShares MSCI Spain ETF, or EWP, took in a record $139 million on Tuesday as trading for the fund soared to more than eight times its average daily volume for the past year. The fund has almost 40 percent of its holdings in banks.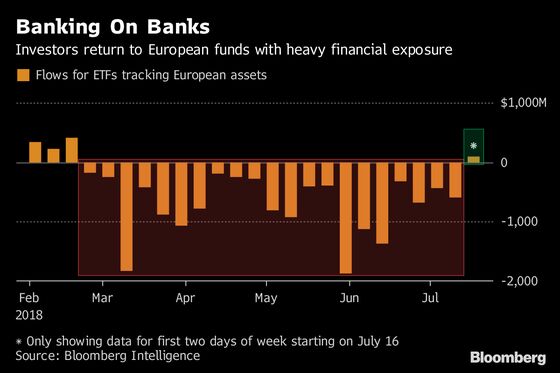 "I am watching these flows to tell me when funds think Europe is getting cheap enough to invest in," said Christian Fromhertz, founder and chief executive officer of the trader education firm Tribeca Trade Group. "Twenty weeks of outflows is no small streak."
Investor interest in EUFN may be driven by Deutsche Bank AG's unexpectedly positive second-quarter preliminary results on Monday, Fromhertz said. And EWP may be taking in cash ahead of the second-quarter earnings reports for Spanish banks next week.
"People may be looking around for places to call the bottom and buy the dip," Bloomberg Intelligence ETF analyst Eric Balchunas said. "European financials seem like a good place to do it."