ETFs Stuffed With Chip Stocks Absorb Massive Trading Volume
(Bloomberg) -- Investors have more than doubled this year's average trading volume for the two largest semiconductor exchange-traded funds, as chip makers extended their worst five-day slump since April and led major indices to the downside Wednesday.
The VanEck Vectors Semiconductor ETF, or SMH, traded 21 million shares by the close, the most since December and almost four times the year's daily average. Traders also transacted heavily in the iShares PHLX Semiconductor ETF, or SOXX, which saw 2 million shares traded, more than double the year's daily average.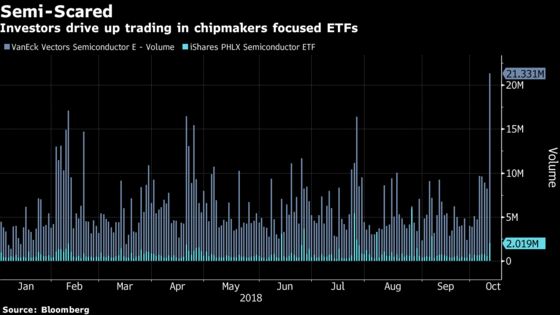 The Philadelphia Semiconductor Index (SOX) fell as much as 4.5 percent, the most intraday since April. Analysts have expressed concern in recent weeks about the risks of a cyclical downturn for semiconductors, with both Deutsche Bank and Morgan Stanley cutting estimates for chip stocks last week.
Investors have yanked $320 million dollars from SMH this month, already on track to be the largest monthly outflow since March. Implied 90-day volatility in SMH options has ticked up, now ranking in the 85th percentile on a two-year basis, according to Susquehanna derivatives strategist Christopher Jacobson.
Jacobson recommends buying the May $85/$115 risk reversal via buying the May $85 puts vs selling the May $115 calls in order to help neutralize the impact of elevated volatility. He writes of the collar that investors, "can take advantage of this by using a sale of the (relatively) rich upside call to help finance our (relatively) cheap downside put."