ETF Traders Take $1 Billion Shot on Reviving the Reflation Trade
(Bloomberg) -- Exchange-traded fund investors are making another attempt at the reflation trade just two months after a fall in Treasury yields signaled its death. 
Traders poured a combined $1.1 billion into the iShares U.S. Real Estate ETF (ticker IYR) and iShares TIPS ETF (ticker TIP) on Wednesday, according to data compiled by Bloomberg. Over $900 million was also pulled from the iShares 7-10 Year Treasury Bond ETF (ticker IEF) in a bet both yields and cyclical stocks are headed higher.
While cyclical sectors dominated the leaderboard for the first half of 2021, they've lagged in recent months as the delta virus variant prompted concerns about the pace of the economic recovery. But Wednesday's flows suggest that investors are putting money behind the dormant reflation trade, according to cross assets strategist Charlie McElligott at Nomura Securities.
U.S. 10-year Treasury yields have been "stuck" below 1.4% since July but ETF traders now appear to be positioning for higher rates and bidding up inflation protection in hopes the reflation trade will rebound, McElligott wrote in a note.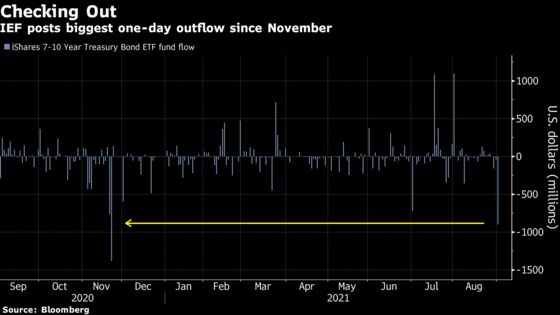 "Notionally, these aforementioned ETF flows are not the end-all, be-all of course," McElligott said. "However, the reallocation above is simply more evidence of this 'openness' I have been referencing from investors to take another shot on bearish fixed-income/bullish reflation into the back part of the year."
IEF has dropped 2.3% so far this year, while TIP is holding onto gains of 0.8%. A red-hot U.S. housing market, meanwhile, has propelled IYR over 29% this year, on track for its best annual gain since 2006.