ETF Tracking Europe's Banks Sees Massive Trading on Italy Turmoil
(Bloomberg) -- Italy's fiscal illness is infecting an exchange-traded fund that tracks European finance firms.
Volume in the iShares MSCI Europe Financials ETF, or EUFN, reached more than 4.5 million shares worth over $90 million on Tuesday afternoon, as the fund dropped 1 percent for its fifth consecutive decline. The turnover is double the daily average for the past year and more than four times the 20-day average volume for this time.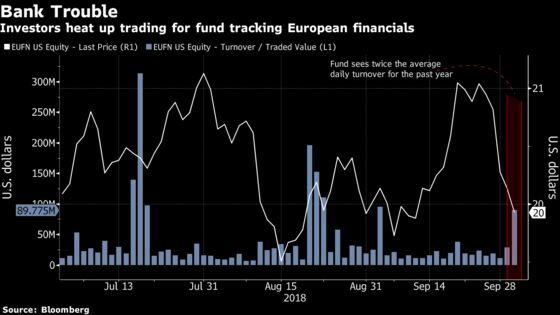 Banks were the worst performing group among European sectors, as the Stoxx 600 Banks Index fell to its lowest level since Sept. 12. The benchmark is down 16 percent this year. The Stoxx Europe 600 Index hit a two-week low Tuesday amid general investor dismay over a looming showdown on fiscal spending between the European Union and Italy's populist government.
Banks in Europe haven't deleveraged themselves anywhere near as much as the U.S. lenders, and the problems facing the sector could create trouble for other global markets, according to Matt Maley, an equity strategist at Miller Tabak & Co.
"We got a reminder that the populist movement that has engulfed the world in the past few years has not faded away the way some people thought it had," Maley said. "Global investors remain way too complacent about what's going on with European banks."