ETF Investors Defy Stock Slump and Pile Into Emerging Markets
(Bloomberg) -- The meltdown in global equities last week didn't keep investors from snapping up emerging-market ETFs.
More than $1 billion flowed into U.S.-listed exchange-traded funds holding developing-nation assets last week, even as the main emerging-market stocks index lost more than 1 percent with the outlook for U.S.-China appearing to take a negative turn amid rising tensions around the arrest of Meng Wanzhou, Huawei Technologies Co.'s chief financial officer. The biggest emerging-markets fund -- the $56 billion Vanguard FTSE Emerging Markets ETF, ticker VWO -- took in more than $292 million, the largest weekly inflow since January.
Emerging Market ETFs Rise for 8th Week in $7.83 Bln Streak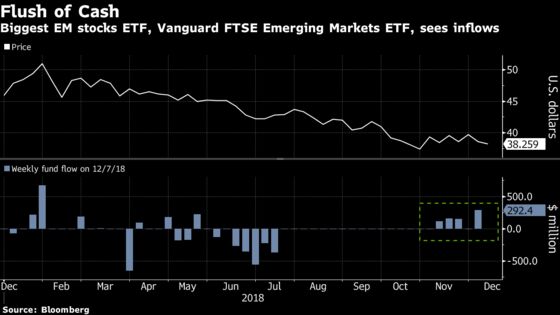 In addition, the $49.8 billion iShares Core MSCI Emerging Markets ETF, ticker IEMG, the second largest emerging-markets ETF, recorded a fifth straight week of inflows. And money poured into some smaller funds. The $212 million WisdomTree Emerging Markets ex-State-Owned Enterprises Fund, ticker XSOE, and the $262 million iShares MSCI Emerging Markets Small-Cap ETF, ticker EEMS, both had their best week of inflows since their inceptions.
Combined, developing-nations ETFs have had eight straight week of inflows, a sign that investors continue to see value in these assets after the sell-off earlier in the year. Last week, investors including Morgan Stanley, BNY Mellon Asset Management, GAM Ltd. and SEB SA all affirmed their favorable views on the group, saying the steep rout created attractive valuations amid.
"EM repriced earlier this year," said Shamaila Khan, AllianceBernstein's director of emerging-market debt. "So it is reflecting more of the global risks which are now getting priced in other risk markets."