ETF Investors Seeking Safety Scoop Up Ultra-Short-Term Bonds 
(Bloomberg) -- Investors are seeking safety in exchange-traded funds that track bonds with ultra-short durations as rising interest rates and global trade turmoil have sent markets into a tizzy.
The JPMorgan Ultra-Short Income ETF, known by its ticker JPST, has seen the most inflows ever in the past week, with investors pouring in $559 million over eight straight days of asset gains. More than $195 million came in on Tuesday alone, increasing the fund's assets by 6.5 percent to $3.2 billion.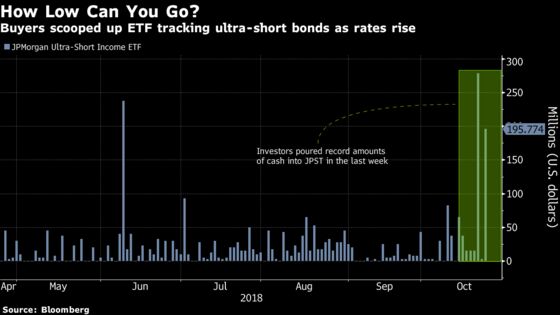 "JPST is one of the last safe spaces left in fixed-income as two-thirds of bond ETFs are now negative on the year," said Bloomberg Intelligence analyst Eric Balchunas.
The flows on Tuesday were driven by at least one large investor, as two massive block trades -- one for 1.5 million worth $77.2 million, and the other for 1.2 million shares worth about $60 million -- moved at 11:50 a.m. in New York.
The First Trust Enhanced Short Maturity Fund, or FTSM, also has seen large inflows. Investors added more than $147 million combined on Monday and Tuesday, the most for a two-day period since March 2016.