WisdomTree Metal ETFs Attract Investors Hunting for Bargains
(Bloomberg) -- Industrial metals' slump to near a one-year low is attracting exchange-traded fund investors who are betting on a turnaround in a market that's been grappling with a supply squeeze.
Investors poured in $130.1 million into long-only ETFs linked to industrial metals this month through Oct. 30, the most since January, according to Bloomberg Intelligence data. Most of that money went into WisdomTree's ETFS Nickel, and ETFS Aluminium attracted about $50 million.
While prices in the futures market have fallen amid concerns trade protectionism will hurt global growth, ETF "investors - often known for being somewhat contrarian and value focused - saw an opportunity," Nitesh Shah, research director at WisdomTree U.K. Ltd., said in an email. They are "using price dips to increase allocations" to metals, he said.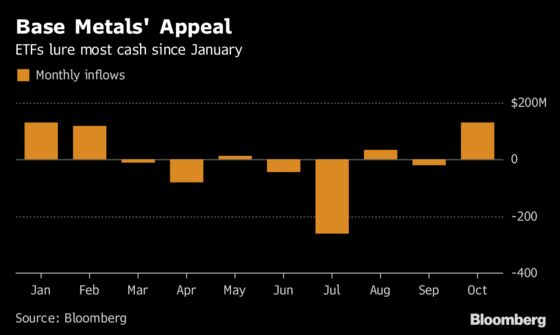 Nickel inventories tracked by the London Metal Exchange are now at the lowest since 2013 after shrinking 40 percent this year. Aluminum stockpiles tumbled 26 percent from a peak in April amid a scramble for supply after the U.S. imposed sanctions against Moscow-based producer United Co. Rusal, while Norsk Hydro SA's Alunorte refinery for alumina, a key ingredient in making the refined metal, continued to operate at half capacity.
Even as a global trade war dims demand prospects for industrial materials, ETF investors remain focused on the long-term outlook for nickel in battery production, Shah said. In the case of aluminum, the sanctions against the Russian producer and winter curbs imposed by the Chinese government on domestic smelters are tightening supply, boosting the investment appeal of the metal used in beer cans and airplanes, he said.
On Wednesday, nickel prices slid 2.3 percent in London as aluminum dropped. The Bloomberg Industrial Metals Subindex, which tracks the four most heavily traded metals, including copper and zinc, posted its longest losing streak in more than a year.