ETF Investors Join the Quants and Hedge Funds Sitting Out the Stock Rally
(Bloomberg) -- The list of investing cohorts missing out on the rebound in U.S. stocks keeps growing, with ETF investors yanking almost $4 billion from the market so far this year.
They're joining hedge funds and quantitative investors on the sidelines despite the S&P 500's best start to a January in almost 30 years. The pessimism among ETF investors is especially unusual given that the asset flows for the group haven't moved opposite the market in more than a decade.
The withdrawals provide a fresh sign that investors lack confidence in the post-Christmas rally that added 14 percent to the S&P 500. The equity benchmark halted a four-day rally Tuesday and then wiped out a 0.8 percent advance Wednesday as concern mounted that everything from trade to the U.S. government shutdown will stanch global growth.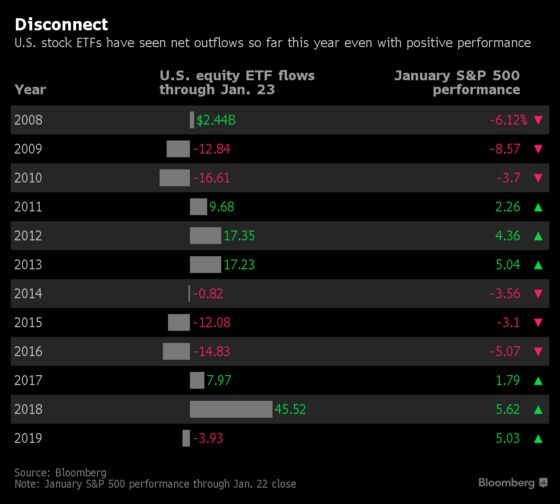 "These geopolitical macro uncertainties, I call them macro fog, we're still trying to plow through it," said Yana Barton, an equity portfolio manager at Eaton Vance. "We haven't answered monetary policy questions -- they've given us hints that they're going to back off, but it's not a given. We haven't figured out trade policy issues, we haven't figured out the answer to the legitimate question of we're kind of in the later stages of this economic boom. These are legitimate concerns."
Some say the January rally -- the S&P 500 is still up 5 percent this month as of 1:36 p.m. in New York -- is reminiscent of a typical bear market bounce, with more selling ahead. At the same time, market gains that are common during earnings season may be more elusive this time around, if the early reports are any indication. So far, companies that have missed on earnings have seen their share prices punished more than usual.
"Stocks are at a position now where they better put up, or we're going to see these down days," JP Gravitt, chief executive officer and market strategist for Market Realist, said by phone.