ETF Investors Ditch Regional Banks as Shares Hit 13-Month Low
(Bloomberg) -- It wasn't supposed to be like this for banks.
Rising interest rates and a surging economy typically portend higher profits for finance firms. But as investors grow increasingly worried about a slowdown in the housing market, the opposite is happening, with bank stocks and the exchange-traded funds that track them taking a hit.
The $4.2 billion SPDR S&P Regional Banking ETF, ticker KRE, has plunged nearly 20 percent since reaching a record on June 8, with investors pulling $61 million from the fund Monday. More than $280 million has left the ETF, the largest that tracks regional banks, this month. Meanwhile, the KBW Regional Banking Index has plunged to its lowest level since September 2017.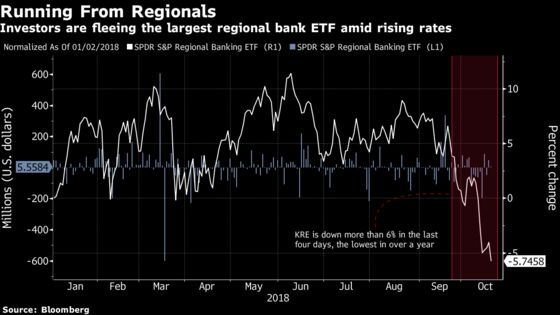 Regional banks are exposed to souring sentiment in real estate and have seen a pullback as investors move cash instead into defensive industries like utilities and food producers. The combination of low savings rates, poor wage growth and higher interest rates also brings pain to the group, according to Matt Maley, equity strategist at Miller Tabak.
"Things cost more and people don't have the money to pay for it," Maley said. "So they will hold off longer to buy their new house, their new car."
KRE has fallen around 11 percent in October to a 13-month low. Zions Bancorp NA fell 3.5 percent Monday, highlighting investor concerns surrounding higher rates and a slowdown in the housing market. The shares rebounded Tuesday after earnings topped estimates, gaining 5 percent.
Fifth Third Bancorp, Huntington Bancshares Inc. and Regions Financial Corp. all reported results Tuesday morning, with Fifth Third and Regions showing more lending in the quarter. However, that probably won't "change the negative narrative [of] lackluster loan growth and declining flow-through benefits from rising rates surrounding bank stocks in recent weeks," Instinet analyst Bill Carcache wrote in a note.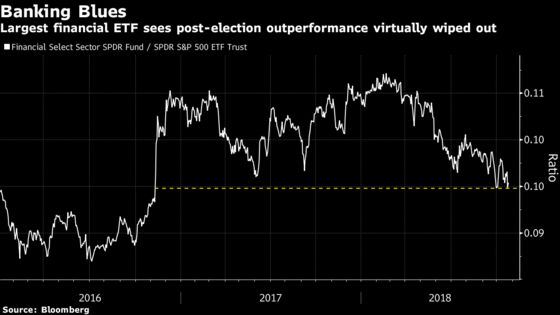 So far quarterly results showing slightly more lending activity aren't outweighing concerns about sluggish growth. That's added pressure to bank stocks. The $29 billion Financial Select Sector SPDR Fund, ticker XLF, has pretty much erased all of its comparative gains over the S&P 500 Index since the 2016 U.S. presidential election.
"Financial stocks have been doing horribly here. That might be the strongest message that economic growth is slowing," said Jim Paulsen, chief investment strategist at Leuthold Weeden. "They encompass a lot of the strength in the economy and the finance-able parts like housing, autos, durable goods. The weakness in financials does not suggest the consumer is in great shape."