ETF Investors Aren't Giving Up on Tech Regardless of FAANG Woes
(Bloomberg) -- Some experts are recommending shorting the FAANG bloc of tech stocks. But ETF investors are buying it -- literally.
State Street Corp.'s Technology Select Sector SPDR Fund, known by its ticker XLK, took in $725 million last week, the most since January 2017. And before an outflow of $244 million on Friday, the $23 billion fund was on its way to posting its highest weekly inflows ever.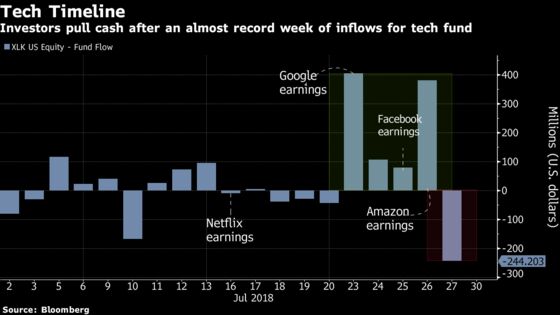 The buying flies in the face of advice from Bank of America, where strategists led by Michael Hartnet included shorting Facebook, Apple, Amazon, Netflix and Google parent Alphabet in a list of trades for the second half of 2018.
"Once again a posse of bears has surfaced predicting that this latest stumble in technology stocks could prove different than technology stocks' other misses earlier this year," John Stoltzfus, the chief investment strategist at Oppenheimer & Co., wrote in a note to clients Monday. "With fundamentals pretty much intact among the names that stumbled last week, we'd be reluctant to get too bearish on technology."
It's worth noting that XLK does not hold a single share of Amazon.com Inc. or Netflix Inc. However, 17.5 percent of the portfolio is in Facebook and Google.
That's still significantly less FAANG exposure than the $68 billion Invesco QQQ Trust Series 1 ETF, known by its ticker QQQ, which has more than a quarter its holdings in the group. QQQ saw a string of outflows last week, losing more than $1.4 billion.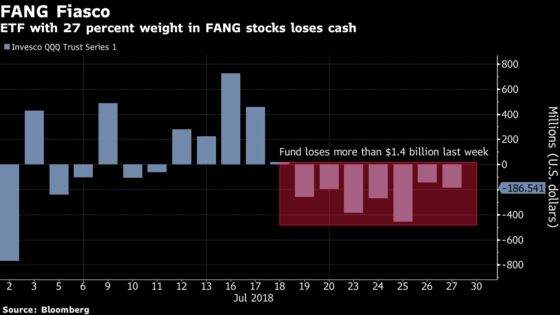 XLK and QQQ, the two largest technology ETFs, do overlap on one stock: both have Apple at the top of their lists. And with the company set to report earnings after Tuesday's market close, ETF investors will be eyeing these funds closely.
"With Apple at least 11 percent of the exposure in these ETFs, I'd imagine some angst into the print tomorrow," said Dave Lutz, head of ETFs at JonesTrading Institutional Services.