ETF Buyers Snap Up Bank-Heavy Funds Amid Climbing Interest Rates
(Bloomberg) -- Investors of exchange-traded funds are chasing chunky yields and pouring cash into strategies holding banks, hoping to profit from higher interest rates.
The $33 billion Financial Select Sector SPDR Fund, known by its ticker XLF, took in $942 million last week, the most since December. Buyers also grabbed the $5.3 billion SPDR S&P Regional Banking ETF, or KRE, which added $475 million over the five days, its largest weekly inflow since early December.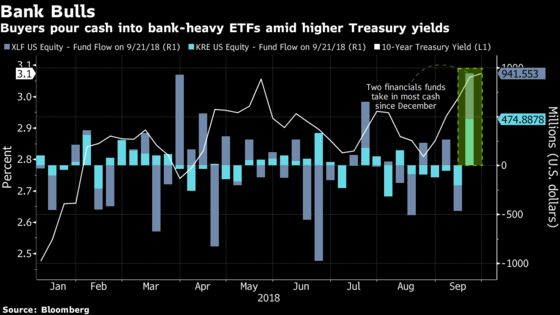 "Financials led sector inflows for the first time in weeks as investors appeared to position themselves for a higher interest rate environment," said Christian Fromhertz, chief executive officer of Tribeca Trade Group.
Yields on benchmark 10-year Treasury notes have been hovering above 3 percent since Sept. 18. Banks typically like to borrow short and lend long, so a steeper yield curve can mean a larger net interest margin. Equity portfolio managers like Yana Barton at Eaton Vance said the widening spread could be key for investors.
"We're positive on financials because there's still some value." Barton said in an interview last week at Eaton Vance's headquarters in Boston. "Higher rates means they can lend out here and charge this, so they can have a bigger spread."