Equity Investors Flee Stocks at a Record Pace
(Bloomberg) -- Escalating trade tensions have pushed investors into deeply defensive purchases of bonds and money-market funds at the cost of equities. It's a pattern that is likely to continue as tariff broadsides dominate headlines, according to Deutsche Bank AG strategist Parag Thatte.
Since December, combined equity outflows have reached $237 billion, the highest for any six-month period. And as a percentage of assets under management, the only times stocks have been less in favor were during the 2008-2009 recession and the European financial crisis about two years later.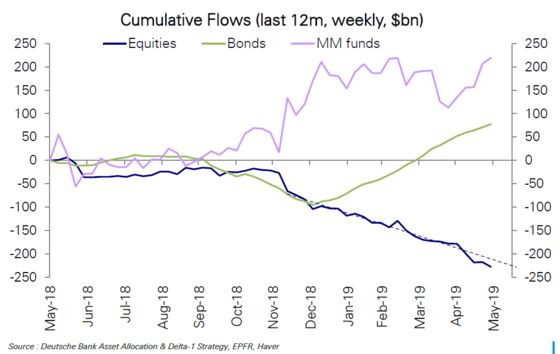 Bond funds have attracted $220 billion of inflows this year, the main beneficiaries of investors' bid for safety. More recently, money-market funds have gained favor, with more than $107 billion pouring in during the past five weeks, a surprising trend in a traditionally weak season for this asset class, Deutsche Bank said.
The future doesn't look too bright either for equities, with signs a further exodus from stocks may be in store. Net futures positions on the S&P 500 have barely decreased and remain elevated, while liquidity is still very low.
As for leading indicators, they are now hinting at a contracting ISM manufacturing gauge and a decline in the S&P 500 toward the 2,650 level, according to Thatte, a further 3.6% drop from last Friday's close.