Stock Carnage Seen Largely Driven by Quant Rotation to Value
(Bloomberg) -- For all the panic gripping global markets, one clear-headed trade is emerging. Investors are selling their most beloved shares and piling into discarded ones.
Value, or shares that trade at a discounted price, have been one of the few cohorts to benefit as the rest of the market bled. The performance gap between value and momentum in the U.S. reached 1 percent this week, a level only breached four times in the past nine years.
The threat of inflation and further interest-rate hikes that has sent shock waves through most equities has boosted value shares, which benefit from signs of economic growth.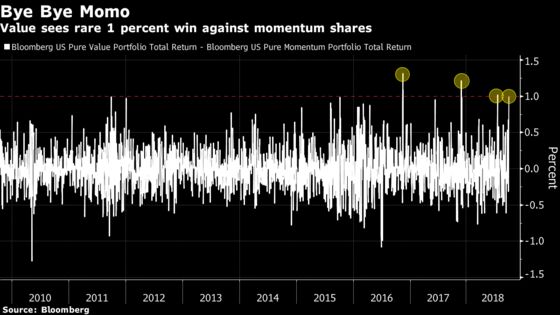 "Anything that lifts that growth outlook is supporting value, hence the positive reaction to bond yields of late," said Inigo Fraser Jenkins, global head of quantitative strategy at Sanford C. Bernstein & Co.
Value shares also look "unusually" cheap, which adds to their current attractiveness, Fraser Jenkins said.
A long-short value strategy gained in the European session Thursday, heading toward an 0.4 percent advance as momentum dropped by 0.6 percent, according to Bloomberg data.
Investors are unwinding their momentum positions -- much of which are growth shares that post consistent earnings -- to the benefit of value. Growth shares are especially vulnerable to rising bond yields and rate risk because of their long-duration characteristics, according to Nomura Holdings Inc. strategist Charlie McElligot.
"Now that you have growth longs coming sharply off due to their interest rate sensitivity, the 'status quo' performance positioning of the 'long growth, short value' legacy trade is getting smoked," McElligott said.
Quantitative trend-followers also helped contribute to the sharp losses, selling about $66 billion worth of S&P 500 futures heading into Wednesday's session, as models that track equity trends over a few weeks flipped to a short signal, McElligott said.