Equity and Quant Hedge Funds Hit Hardest by Stock Market Rout
(Bloomberg) -- October's stock rout is inflicting the most pain on equity and quant hedge funds.
As the U.S. stock market headed for its worst month in seven years, equity funds have slumped 6.8 percent through Monday, Morgan Stanley's prime brokerage group said in a report. That brings the year's losses to 5.9 percent.
The global turmoil has tripped up the $3 trillion hedge fund industry, wiping out what little money they had made in 2018 -- a year that has seen managers including Highfields Capital's Jon Jacobson and Tourbillon Capital's Jason Karp announce plans to exit the business. The losses also show the difficulties that most managers face in navigating episodic market turbulence. By contrast, macro managers sidestepped the mess and profited from price swings.
The selloff underscores the perils that funds face when they pile into the same stocks. Equity funds suffered after the top 10 stocks they're most "crowded" in underperformed the S&P 500 Index by almost 3 percent on Oct. 29, the worst day since 2010, Morgan Stanley said. In addition, the top 10 stocks that funds bet against outperformed the index by more than 1 percent.
Funds that use computer-driven models to follow big market trends were whiplashed as price volatility spiked. Among the casualties: Leda Braga's BlueTrend hedge fund, GAM Holding AG's Cantab unit and Man Group Plc's AHL unit. Other quant models that lost money include Renaissance Technologies' U.S. equity fund.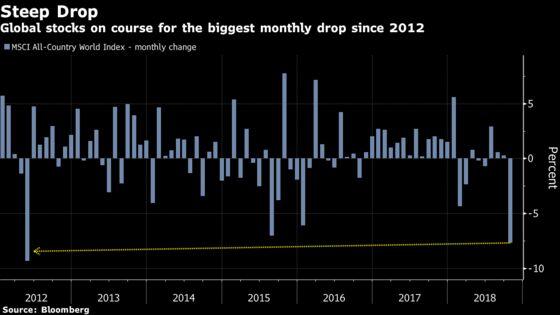 On the macro front, managers who bet on broad economic trends have staged a comeback in 2018 after years of middling returns. Among them was Alan Howard's Brevan Howard Asset Management which gained 1.9 percent through Oct. 26 in its main fund, bringing its returns so far this year to 12 percent.
Other hedge funds that skirted losses include Ken Griffin's Citadel, which gained 0.5 percent so far this month in its biggest fund, people with knowledge of the matter said.
Representatives for the hedge funds declined to comment.
Here some more stats from the Morgan Stanley Oct. 30 report:
Globally, all funds lost an average 4.9 percent for the month, and 3.9 percent for the year.
American equity funds lost 7.2 percent for the month and are down 4 percent for the year.
Those in Europe slid 5.8 percent for the month and lost 5.9 percent for the year.
In Asia, equity funds lost 6.3 percent for the month and 13 percent for the year.
Monthly figures are through Oct. 29.