Equities Near Capitulation on U.K. Budget Day: Taking Stock
(Bloomberg) -- Euro Stoxx 50 futures are up 0.7%, while the picture is mixed in Asia where equities lose ground again, particularly in China with the Shanghai Composite down 2.2%.
Today is the presentation of the UK budget and it may have an impact on several sectors, with pensions and bookmakers most likely to face some pressure. Banks, retailers and homebuilders will also be closely watched. In the banking sector, HSBC is having a great day in Hong Kong, up 4% after reporting earnings. Standard Chartered is up 2%.
In other stocks to watch, Italian banks are in focus after S&P cut the country's outlook to negative, but did not downgrade its rating. This may give some respite to Italian bonds. Italian Prime Minister Giuseppe Conte said is ready for action in case the yield spread worsens and banks need to be recapitalized.
On the M&A front, IBM is bidding for cloud specialist Red Hat, offering a massive 63% premium to the last closing price. SAP and other stocks from the sector may react.
Friday was a mad session that gave hints of a potential investor capitulation, which was followed by a sudden rebound going into the European close. Strong enough for a real bounce? Volatility is on the rise, now at its highest since February in Europe and the U.S.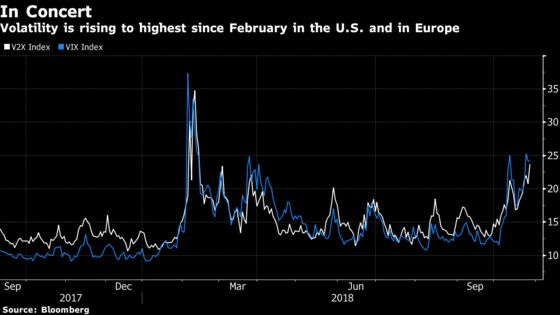 Talking about capitulation, Morgan Stanley strategists said on Friday their Capitulation Indicator, which measures momentum and breadth, had fallen into buy territory for the first time since June 2016, stating that 52% of European stocks now trade at least 20% below their 52 week high, a level last reached in 2012. That was before Friday's drop, so expect buy signals to flash even brighter. In 2018, oil and gas is now the only Stoxx Europe 600 sector in positive territory, and with oil now trading below $68 in New York, this may not last.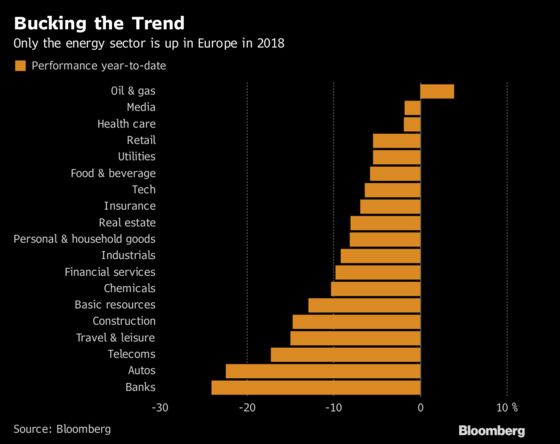 The DAX is flirting with bear market. After years of outperformance, the All Mighty index is on its knees, and as a total return index, there is little doubt that without the dividends it would already be in bear market. The silver lining for German exporters may come from the weak euro making them more competitive, something to keep in mind for future earnings. On the political front, the governing coalition is experiencing further instability, with its worst results in Frankfurt's home state of Hesse since World War II.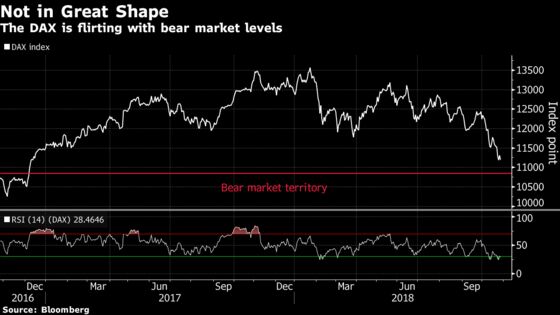 Elsewhere, right-wing candidate Jair Bolsonaro won the presidential election in Brazil and it may have some impact on stocks exposed to the country. You can find a full review here. Most metals are down although gold is still holding near its three-month high level.
"A pledge to increase spending is expected to offer some support to the pound. Hammond's tax cut for smaller retailers, hammered by online retailers could also give the sector a well needed a lift. However, promises of further spending will come with a warning attached. Should no Brexit deal be achieved over the coming weeks, then the government will need to rewrite its economic strategy and spending plans. Hammond will use this opportunity to urge the Conservative party to unite behind Theresa May's final push for a Brexit deal," Jasper Lawler, head of research at London Capital Group, writes in note.
NOTES FROM THE SELL SIDE:
RBC said AB Inbev 3Q results were disappointing and not too bad at the same time. The broker believes the stock is oversold, and with with price/book valuation at lowest for a decade, it upgraded its rating to outperform.
HSBC CEO John Flint finally delivered the kind of growth that investors were waiting for, without having to spend too much to achieve it. The shares soared in Hong Kong trading.
Hitachi buys Elliott's stake in Ansaldo STS for EU807.6 million. The purchase price paid is equal to EU12.70 per share.
Danske Bank's laundering scandal and a massive dividend-tax fraud now look set to influence elections due to be held in Denmark next year.
Local Authority Pension Fund Forum, whose members own about 1% of Ryanair, seeking resolutions for replacement of Chairman David Bonderman and succession plans for CEO Michael O'Leary, says partner PIRC in emailed statement.
ABB will invest $150 million to build a robotics factory in Shanghai, as the Swiss manufacturer capitalizes on China's rising consumption and aspiration to transform into a technology pioneer.
Watch European Software Stocks as IBM Agrees to Buy Red Hat
Watch These European Stocks As Bolsonaro Seals Brazil Presidency
Watch Italian Banks After S&P Decision, Amid Gov. Reassurances
Philips Seeks to Re-Appoint CEO Van Houten, CFO Bhattacharya
Cancom Third Quarter Ebitda EU26.7 Mln
Kering to Repurchase up to 1.0% of Share Capital Over 12 Months
EQT Offers SEK36.9 a Share for Sweden's Karo Pharma
Galp Third Quarter Adjusted Net 1.1% Above Estimates
Panalpina to Talk to Shareholders About Board Representation: BZ
Essity to Cut 1,000 jobs as Cost Savings Target Increased
Aeroports De Paris Nine Month Revenue EU3.35 Bln
Kuka Cuts 2018 Revenue Forecast on Automotive Industry Outlook
Bankia Third Quarter Net Income 1.1% Above Estimates
GEA Group Third Quarter Oper Ebitda Beats Highest Estimate
Novartis, Pfizer Collaborate to Advance NASH Treatment
Zur Rose Plans CHF200m Capital Increase to Finance Acquisition
Pancreas Disease Detected at Marine Harvest Norway Salmon Site
Dagens Industri Recommends Readers Buy Ica Shares
CBA Plans New Unit With Full Banking License in Amsterdam: FT
BASF, Sinopec Plan to Build New Ethylene Plant in Nanjing
Rio Says Chinalco Pact for $1 Billion Simandou Stake Has Lapsed
Network Rail Asks EU to Block Siemens-Alstom Merger: FT
Browder's Laundering Complaint Shows $97 Million Nokia Payment
Sembcorp Marine Gets New Contracts Worth Over S$200 Million
Deutsche Bank Merger With Commerzbank Not on Table: FT
Novartis Says Eylea Rival Effective After Two Years of Tests
TECHNICAL OUTLOOK for Stoxx 600 index:
Resistance at 353.1 (50% Fibo); 360 (January 2017 low)
Support at 341.2 (61.8% Fibo); 326.3 (76.4% Fibo)
RSI: 26.4
TECHNICAL OUTLOOK for Euro Stoxx 50 index:
Resistance at 3,194 (50% Fibo); 3,262 (March low)
Support at 3,072 (61.8% Fibo), 2,921 (76.4% Fibo)
RSI: 30.8
MAIN RESEARCH AND RATING CHANGES:
UPGRADES:
AB InBev upgraded to outperform at RBC; PT 75 Euros
ADO Properties upgraded to buy at HSBC; PT 60 Euros
AIB Group upgraded to buy at Goodbody; PT 5.15 Euros
BW Offshore upgraded to buy at Kepler Cheuvreux; PT 68 Kroner
EssilorLuxottica SA raised to sector perform at RBC
Immofinanz upgraded to buy at HSBC; PT 25 Euros
Luxottica upgraded to sector perform at RBC; PT 54 Euros
Medistim upgraded to buy at DNB Markets; Price Target 81 Kroner
Merck KGaA upgraded to outperform at Credit Suisse
Metro Bank upgraded to buy at Citi
Sabadell upgraded to buy at Bankinter Securities; PT 1.76 Euros
Schibsted upgraded to buy at SEB Equities; PT 315 Kroner
TLG Immobilien upgraded to buy at HSBC; PT 27 Euros
Verkkokauppa.com upgraded to buy at Inderes; PT 5.70 Euros
Alstria Office downgraded to hold at HSBC; PT 14 Euros
BASF downgraded to add at AlphaValue
DIC Asset downgraded to hold at HSBC; PT 10.50 Euros
Deutsche Euroshop downgraded to hold at HSBC; PT 32 Euros
HeidelbergCement downgraded to hold at Commerzbank; PT 59 Euros
Ipsen downgraded to underperform at Credit Suisse
Just Eat downgraded to sell at Peel Hunt
Mediaset Espana downgraded to hold at HSBC; PT 6 Euros
Outokumpu downgraded to hold at Jefferies
Signify downgraded to hold at SocGen; PT 20 Euros
Celyad rated new hold at Kepler Cheuvreux; PT 20.50 Euros
MSCI Asia Pacific down 0.2%, Nikkei 225 down 0.2%
S&P 500 down 1.7%, Dow down 1.2%, Nasdaq down 2.1%
Euro little changed at $1.1393
Dollar Index up 0.1% at 96.45
Yen down 0.04% at 111.95
Brent down 0.5% at $77.3/bbl, WTI down 0.4% to $67.3/bbl
LME 3m Copper little changed at $6162.5/MT
Gold spot down 0.2% at $1230.2/oz
US 10Yr yield down 1bp at 3.07%
MAIN MACRO DATA all times CET:
10am: (IT) Sept. PPI YoY, prior 5.1%
10am: (NO) Norges Bank Releases Financial Stability Report
10:30am: (UK) Sept. Net Consumer Credit, est. 1.2b, prior 1.1b
10:30am: (UK) Sept. Net Lending Sec. on Dwellings, est. 2.9b, prior 2.9b
10:30am: (UK) Sept. Mortgage Approvals, est. 64.7k, prior 66.4k
10:30am: (UK) Sept. M4 Money Supply YoY, prior 1.2%