U.S. College Endowments Are Falling Short
(Bloomberg) -- College endowments are looking like a lot of other investors: They're struggling to bolster returns while spending more.
The average fund gained 5.8 percent over a decade, falling short of the 7.2 percent that schools targeted to cover their spending and expenses. Shorter-term performance wasn't so stellar either. Funds rose 8.2 percent in the year through June 30, down from the year prior, according to a study from TIAA and the National Association of College and University Business Officers.
The findings, based on a survey of 802 U.S. institutions, show that two-thirds boosted spending from endowments to support academics, adding pressure to produce better investment results. Of the money spent, almost half went to financial aid. The richest school in the survey was Harvard University, with a fund of almost $40 billion.
"What is concerning is the average 10-year returns are not keeping pace," said Kevin O'Leary, chief executive officer of endowment and philanthropic services at New York-based money manager TIAA.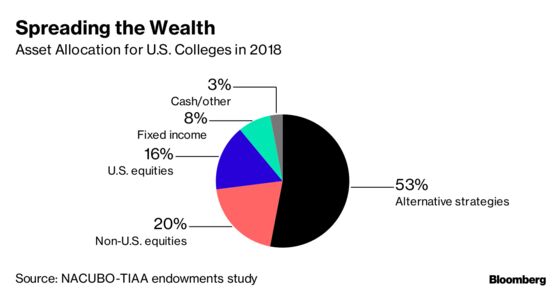 The current fiscal year is shaping up to be even worse for some colleges, particularly given December's market rout. At least one institution reported mid-year returns -- the University of California said it lost about 3.7 percent in the first six months of fiscal 2019 as its endowment fell to $11.7 billion.
According to data from the report being released Thursday, the best results for endowments were from U.S. equities, which were up almost 14 percent the year through June. Non-U.S. equities gained almost 7 percent. Alternative strategies were up 8.3 percent, led by private equity and venture capital, O'Leary said in an interview before the report was made public.
Endowments with more than $1 billion in assets had the best average return for fiscal 2018 at 9.7 percent, though over a decade they trailed some smaller colleges with less complicated portfolios. The bigger endowments allocated on average 58 percent of their portfolios to alternatives like private equity and hedge funds, while the smallest institutions had just 11 percent in such strategies.
The universities' 10-year return includes an average loss of almost 19 percent in fiscal 2009 from the global financial panic.