Emmanuel Macron Suffers Some Rotten Luck in the Oil Market
(Bloomberg) -- The oil market is doing nothing to help French President Emmanuel Macron as he tries to wean his nation off diesel.
Having encouraged diesel consumption for a generation -- helping farmers and those who drive long distances -- France is now increasing taxes at a faster rate for the fuel than it is for gasoline, as Macron's administration looks to bring taxes for both into line.
Pump prices for diesel, accounting for about four fifths of all road-fuel sales in France, last week surged above those of gasoline for the first time in at least 12 years, according to European Commission data compiled by Bloomberg. The jump probably isn't helping to placate what's now a four-day protest over hydrocarbon taxes that are due to be hiked again next year.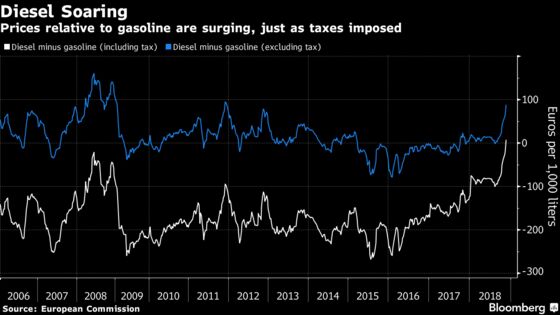 Steeper hikes for diesel coincide with a market that's going from strength to strength, just as gasoline goes in the opposite direction. A spate of refinery work in Europe -- some of it unplanned -- served to restrict supplies, just as inventories of diesel-like products plunge in the U.S., now a major supplier to Europe.
France increased its tax at the start of the year by 7.6 cents a liter on diesel and 3.9 cents for gasoline. A new boost at the start of 2019 will add a further 6.5 cents per liter to diesel, more than double a 2.9 cent increase for gasoline.
At a more structural level, the supply of crudes that yield large amounts of diesel has become tighter this year due to curtailments from the likes of Venezuela and Iran. At the same time, output of gasoline-rich crudes has expanded thanks to surging U.S. shale oil production.