Emerging Markets Beholden to Yuan Fate as Trump Extends Deadline
(Bloomberg) -- Emerging markets are becoming more sensitive to the slings and arrows of the U.S.-China trade dispute just as talks between the two sides enter their most crucial phase.
President Donald Trump said Sunday he'll extend a deadline to raise tariffs on Chinese goods until he can meet his counterpart, Xi Jinping, spurring gains in the yuan. With representatives of the two governments still haggling over a deal that would ensure Beijing lives up to its promise not to depreciate the yuan, the tendency of developing-nation currencies to shadow the dollar-yuan exchange rate is back near its highest since July.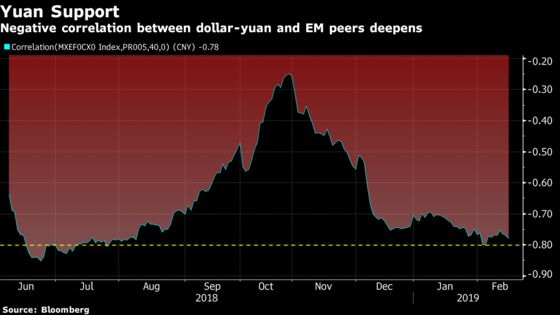 Trump said the U.S. and China have made "substantial progress" in the latest round of talks in Washington, which will help appease investors worried that an escalation of the trade war will derail global growth. This week is also due to serve up a second meeting between the U.S. President and North Korean leader Kim Jong Un, a rate decision in South Korea and gross-domestic-product reports from Brazil, India and Mexico. Not forgetting, of course, the result of the delayed election in Nigeria.
"It appears that progress is being made and in this respect it ought to buoy EM assets into this week," said Mitul Kotecha, a senior emerging-markets strategist at TD Securities in Singapore. "Markets have been anticipating some sort of a deal though there has been concern about structural issues."
Listen here to Emerging Markets Weekly Podcast
Here's what to watch for in emerging markets this week:
Investors are waiting to see which of the two main candidates, the incumbent Muhammadu Buhari and Atiku Abubakar, won Saturday's election; analysts were more or less split down the middle over who would win
Bukola Saraki, Nigeria's Senate president and constitutionally the third-most important person in the country, became the first major casualty as he lost his seat to a candidate from Buhari's party, the public broadcaster reported
Wall Street banks such as Citigroup Inc. say Nigerian equities and bonds will probably rally if Abubakar wins. Since Buhari came to office, Nigeria's stock market has been the world's worst performer, losing about half its value in dollar terms
Read more: Here's What to Watch as Nigeria's Election Results Come in
Trump and North Korean leader Kim will hold their second meeting on Feb. 27-28 in Vietnam
The dismantlement of the Yongbyon Nuclear Scientific Research Center, a complex located in the mountains north of Pyongyang, has emerged in recent months as a potential outcome from the summit
South Korea's sovereign bond risk has fallen to an 11-year low on optimism that there will be progress in the denuclearization of the Korean peninsula
The central bank is expected to keep rates on hold in its second monetary policy meeting this year on Thursday
India will probably report on Thursday that economic growth slowed in the fourth quarter. It will also provide an estimate for 2019

The rupee is Asia's worst-performing currency this year as Prime Minister Narendra Modi plans to spend billions of dollars to buoy the economy ahead of a general election due by May

Investors will also get a fresh round of data on Latin America's two biggest economies -- just as some say a regional currency rally may soon lose steam. Mexico's growth probably slowed in the fourth quarter from a year earlier, according to the median estimate of analysts surveyed by Bloomberg. In Brazil, activity may have ticked up slightly on a year-over-year basis as consumer confidence spiked
Brazil's nominee to head the central bank will breeze through his Senate confirmation hearing on Tuesday, following a damaging cabinet crisis. Roberto Campos Neto will probably be questioned whether policy makers are doing enough to support economic growth, promote financial sector competition and slash bank fees and spreads, according to a lawmaker
Mexico's central bank will present its quarterly inflation report on Wednesday, the first since two new members joined the board. While prices are still rising faster than the bank's target, swap traders see the key rate unchanged over the next three months
Global purchasing managers' indexes, including China's, "will be of high interest" as investors assess the outlook for economic activity, Michael Bolliger, the Zurich-based head of emerging-market asset allocation at UBS Wealth Management's chief investment office, said
The Polish finance ministry will announce the sovereign's bond issuance plan for March, as part of the quarterly target of selling 20 billion to 30 billion zloty in new bonds at regular auctions
South Africa swung to a trade deficit of 14.5 billion rand ($1 billion) in January, from a surplus of of 17.2 billion rand the month before, data may show on Thursday, according to the median estimate of economists. The country its budget balance on the same day.
Upcoming Data and Economic Events
For Eastern Europe, click here
For Middle East and Africa, click here
For Latin America, click here