Emerging-Market October Sell-Off Signals Consolidation in Store
(Bloomberg) -- Emerging markets finished October in the red as the global stock selloff, concern over the Federal Reserve's tightening path and an escalation in the U.S.-China trade war scupper the chance of a recovery in this year's worst-hit economies.
The MSCI Emerging Markets Index of equities has fallen 8.8 percent in October, its worst month since August 2015, after the S&P 500 Index slipped into a correction from a record close in September. An MSCI measure of developing-nation currencies is down 1.2 percent although the Argentine peso, Brazilian real and Turkish lira defied the trend.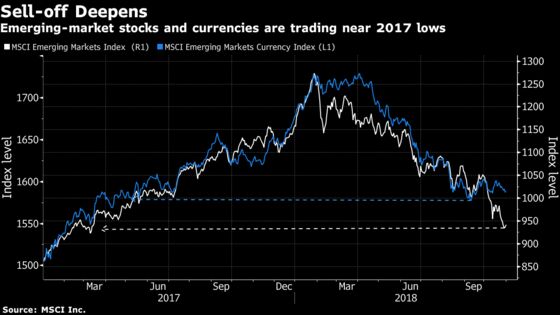 "October was a month where risk-off mood dominated in emerging markets triggered by declines in U.S. equities, amid various uncertainties including U.S.-China trade frictions," Koji Fukaya, chief executive officer at FPG Securities Co. in Tokyo, said in a phone interview. "But I don't see any reasons that would justify a further selloff in emerging markets, nor do I see them sharply rising from here. What we're going to see is more of a consolidation."
The MSCI Emerging Markets Index of equities has seen its valuation tumble to levels last seen before the start of an $8 trillion upswing in January 2016, according to data compiled by Bloomberg. Its ratio of price to estimated earnings now hovers just above 10 times. Expectations for profit at emerging-market companies, however, have jumped 39 percent, making them an attractive prospect for value investors.
The Argentine peso was the top performer among peers in October as the International Monetary Fund approved a larger amount of funding and the central bank took measures to shrink the monetary base. The Turkish lira was bolstered by easing political tensions with the U.S., while the Brazilian real gained on optimism over a victory by market-friendly Jair Bolsonaro in its presidential election.
The global equity slump probably won't derail a more supportive environment for emerging-market currencies, according to Kiran Kowshik, a strategist at Unicredit Bank in London. As U.S. yields and energy prices stabilize, developing-nation currencies will get support, he said in a report.
"We have a medium-term bearish bias on EM currencies, but tactically we think there could be some relief ahead as the focus shifts to the U.S. mid-term elections, while the Sino-US trade dispute may be relegated to the background," Kowshik said. "We do not necessarily view the recent sharp correction in U.S. equities as bearish for EMFX in itself. Indeed, for several periods in recent years, a strong U.S. stock market and a rallying greenback were symbolic of U.S. exceptionalism, and came alongside weaker EM currencies."
Still, plenty of headwinds remain for emerging markets. The IMF cut its global growth forecast for the first time in more than two years, blaming escalating trade tensions and stress in developing nations. The onshore Chinese yuan is hovering around its weakest level against the dollar in a decade, amid concern over the escalating trade row.
While "idiosyncratic developments" have allowed some currencies to claw back their recent losses, the higher U.S. rate outlook remains a major headwind for emerging markets, as do ongoing trade tensions and signs of further slowing in China, Win Thin, head of global currency strategy in New York at Brown Brothers Harriman & Co., wrote in a note.
Here are some notable moves in EM stock markets in October:
Ibovespa Brasil Sao Paulo Stock Exchange Index rose more than 10%, the top performer among the world's major indexes tracked by Bloomberg
South Korea's Kospi index dropped 13%, the worst performer in the world as it entered a bear market
FTSE/JSE Africa All Share Index fell 6%, the worst month since February 2009
Many of the headwinds buffeting emerging markets should eventually abate if the dollar loses steam when the economic stimulus from tax cuts wears off next year, according to Gary Greenberg, the London-based head of emerging markets at Hermes Investment Management. He also said that U.S. policies could become "less bellicose" with a potential Democratic majority in the House following the U.S. mid-term elections set for next week.
"We see reasonable growth, low interest rates and sensible economic policies in the majority of countries comprising the EM benchmark" of stocks, Greenberg wrote in a note.