Emerging Market Fund Manager Buys Turkey, Korea Stocks Amid Rout
(Bloomberg) -- Amid a deepening selloff in emerging markets on the back of global trade concerns and a stronger dollar, at least one fund manager is buying stocks in Turkey and South Korea.
"We've added Turkey recently," Erik Zipf, who runs a $430 million fund for DuPont Capital Management, said in a telephone interview. The country's stocks are near financial crisis valuation levels, while its currency is undervalued by a "significant amount," said Delaware-based Zipf, who has been looking at developing-nation equities since 2011.
The Borsa Istanbul 100 Index has fallen 20 percent this year to near book value, the cheapest since 2009, with the lira remaining near a record low.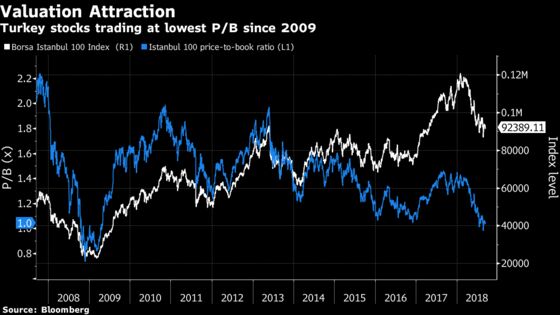 While Zipf sees value in the world's worst stock market of 2018, he is also adding stocks in a developing market he sees as a bit safer -- South Korea. High education and income levels as well as a balanced budget and trade surplus make the Asian nation "a lot less risky in times of market stress, relative to Argentina and Turkey," he said. The fund manager said he recently bought industrial stocks in Korea, where the benchmark Kospi Index is down almost 8 percent year to date.
The MSCI Emerging Markets Index entered a bear market last week, down over 20 percent from a January high, driven in part by concern over the trade war's potential impact on the Chinese economy. Zipf also sees reason for caution on China's financial stocks as the government moves to counter so-called shadow banking.
"The government is cracking down pretty heavily on non-bank financing when it comes to insurers and brokers," he said. While he sees value in some manufacturers, Zipf is neutral on Chinese stocks overall.