EM Bonds Have Edge Over Stocks on Coronavirus Risks
(Bloomberg) -- Emerging-market local-currency bonds should continue to prove more resilient than their equity counterparts amid the coronavirus outbreak thanks to proactive monetary policy and uncertainty over corporate earnings, according to market participants.
Central banks have been quick to act to the virus threat, with Malaysia, Thailand and the Philippines cutting interest rates, and Singapore and Indonesia providing dovish forward guidance. That's helped boost developing nation bonds, while equities have remained under pressure as analysts lower profit forecasts.
The Bloomberg Barclays EM Local-Currency Government Bond Index has fallen just 0.3% since markets first took fright about the outbreak on Jan. 21, compared with about a 3% drop in the MSCI Emerging Markets Index. While developing-nation exchange-traded-funds have seen outflows, they have been concentrated in stocks, with bond funds seeing much milder withdrawals.
"Emerging-market bonds will be supported as there is still room for additional rate cuts, while further upside for equities is limited from a valuation perspective," said Satoru Matsumoto, a Tokyo-based fund manager at Asset Management One Co. "Corporate earnings, a key catalyst for stock performance, will probably begin to show an impact from the coronavirus in the near term."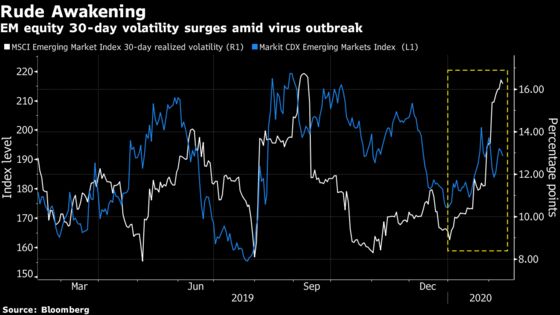 Signs of investor unease are evident in developing-nation stocks, where realized volatility has jumped to the highest since September. Meanwhile, a measure of market stress for the bonds -- credit default swaps -- remains relatively subdued.
In some emerging markets, investors are flooding into debt as investors look to central banks. Foreign investors have been net buyers of South Korean debt for 24 straight days through Feb. 13, according to data from the Financial Supervisory Service, as bets rise for a rate cut. Still, not every developing country is benefiting -- global funds are selling Indonesian sovereign bonds at the fastest pace in almost a decade.
Outside of Asia, Brazil's central bank cut rates to an all-time low last week before adding to warnings that a prolonged coronavirus outbreak may further slow global growth.
Brazil Central Bank Adds to Global Warnings Over Coronavirus
"The combination of attractive real rates and ongoing monetary easing in emerging markets makes local currency bonds attractive," said Alexander Wolf, head of investment strategy for Asia at JPMorgan Private Bank in Hong Kong. "For equities, it depends on the extent of the growth shock."
While equities have historically enjoyed quick recoveries after previous sell-offs, thanks to buy-the-dip investors, there remains a lack of visibility over the virus' impact on profits. Earnings estimates for the MSCI Emerging Markets Index have fallen just over 1% since mid-January, but remain little changed since the year began.
"With uncertainty over how deep the damage will be from the coronavirus on corporate earnings and economic growth," investors are unlikely to aggressively buy emerging-market equities, Tsutomu Soma, a Tokyo-based bond trader at Monex Inc., said in a phone interview. "It makes more sense to buy bonds rather than equities in developing markets."
To be sure, the specter of inflation remains a threat to emerging-market debt and will give some solace to equity bulls. The latest data showed prices in Taiwan hitting a 21-month high and growing by the fastest in over a year in South Korea. But for JPMorgan's Wolf, growth is key and its uncertain path makes bonds the better play at the moment.
"Although a strong rebound can be expected in the second half from Chinese stimulus, how and when growth returns to trend are uncertain leaving us favoring debt over equities," he said.