Love for Emerging-Market Has $6 Billion Flowing Out of Developed-Nation ETFs
(Bloomberg) -- There's a cost to all the money that has flowed into emerging-market stocks over the last few weeks.
Exchange-traded funds focused on developed nations including the U.S. lost close to $6 billion in the five days ending Jan. 18, the first week of outflows in three months, data compiled by Bloomberg show. By contrast, emerging-market stock and bond ETFs have added cash for 14 consecutive weeks, the longest streak of inflows in a year.
Expectations for a pause in interest-rate tightening by the Federal Reserve and hopes that the U.S. and China will reach a trade deal have boosted investors' appetite for riskier assets. These securities, which were hammered during 2018's stock selloff, now look cheap; and that -- combined with better growth prospects for emerging markets versus countries like the U.S. -- has investors diving back into developing nations.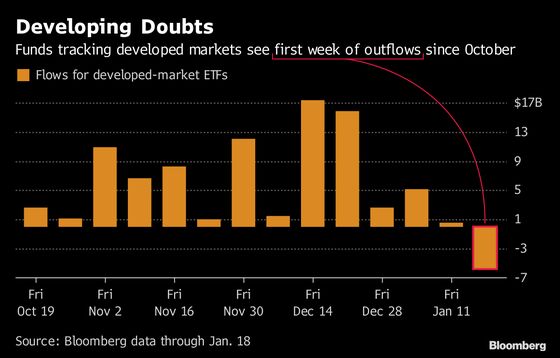 "If they do get the economic growth and the earnings growth that's expected, they're going to show themselves to be awfully inexpensive," said Mark Hackett, chief of investment research at Nationwide Funds Group, which manages $60 billion. "There's a lot of upside," he said, adding that global markets tend to do well in the later stages of an economic expansion.
Indeed, the MSCI Emerging Markets Index is up more than 4 percent in January after a 17 percent plunge last year. Citigroup Inc. boosted its equity allocation to these markets to "slightly overweight" late last year. And UBS Global Wealth Management, which is overweight global equities, added to emerging-nation stocks, citing attractive valuations.
But for funds focused on developed countries, that's meant pain. The iShares MSCI ACWI ex U.S. ETF -- which has Japan, the U.K. and France as its largest exposures -- has bled $642 million in January, on track for its worst month since the fund started more than a decade ago. Its sibling, the $10.9 billion iShares MSCI ACWI ETF, has also lost cash, with investors yanking a record $345 million on Jan. 14.
Meanwhile, assets in the iShares Core MSCI Emerging Markets ETF -- the world's second-largest emerging-markets strategy -- have soared to an all-time high of $54 billion. The fund has absorbed close to $2.5 billion this month, fueled by one investor making several massive trades last week.