Embrace the Rally for Now, Says Europe's Biggest Fund Manager
(Bloomberg) -- A titan of European finance and an Italian banking giant are turning more positive on riskier assets, while highlighting the need to remain vigilant if the current rally turns out to be short lived.
Amundi SA, the largest asset manager in Europe, touted Japanese stocks and European corporate bonds in its investment outlook this week. And Unicredit SpA advised investors to favor European shares and commodities in a strategy note Wednesday. Both firms are on the same bullish page when it comes to emerging market equities.
"The current valuations of equities and credit, even considering the early January short-covering rally, reflect excessive recession fears," wrote Matteo Germano, the head of multi-asset at Amundi, which oversees about 1.48 trillion euros ($1.7 trillion). "Corporate fundamentals, EPS revisions, and central bank dynamics are the key variables to monitor, and considering the more coordinated dovish efforts from CBs, we believe there is room to cautiously increase risk allocation."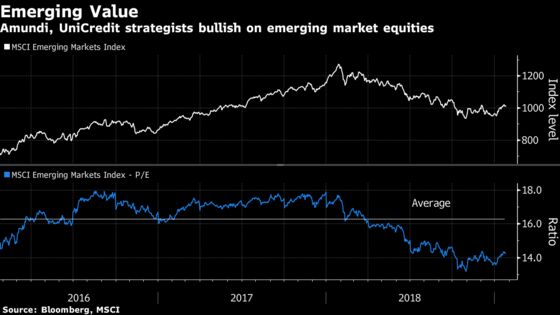 The firms are just part of a phalanx of global money managers who are adding to risky bets as markets recover from last year's slump, propelled by optimism over Federal Reserve monetary policy and signs of progress in U.S.-China trade talks. Jim McDonald, chief investment strategist at Chicago-headquartered Northern Trust, this month said he's advising clients to buy stocks in the U.S. and emerging markets at the expense of investment grade bonds.
For Amundi, Japanese and emerging market stocks are the main beneficiaries of the current wave of optimism, and have "interesting" valuations. Chinese shares have discounted a lot of negative news, while earnings revisions seem to be bottoming out in Asia, the asset manager said.
In addition, most of the widening of credit spreads appears to be done, according to Germano, who prefers European corporate debt due to better fundamentals and technicals, and the high cost of hedging U.S. assets.
UniCredit's renewed risk appetite is tactical, and investors should remain wary of downside risks, according to deputy head of strategy research Elia Lattuga.
"Global markets probably entered a new regime in 2018, and the current upturn might be a bear-market rally in the context of a cyclical downward move on the part of risky assets," he wrote. "A fine balance of friendly monetary policy, decent growth, modest inflationary pressure and a lack of material external risks would be required to sustain the rally beyond the short term."
Amundi's Germano also flagged the risk of the rally petering out if geopolitical risks flare up, advising a hedge through the Japanese yen and gold.
"We are now gradually turning more constructive on risk assets, due to appealing valuations, but we highlight the need to be vigilant," he said.