Emaar Eclipsed as Top UAE Developer on $8 Billion Aldar Deal
(Bloomberg) -- Aldar Properties PJSC became the biggest listed developer in the United Arab Emirates after its shares rose the most in six years on the back of a deal with a state-owned entity in Abu Dhabi.
The company will take over the development and management of projects worth 30 billion dirhams ($8.2 billion) as part of an agreement with ADQ, a deal it said would boost profits.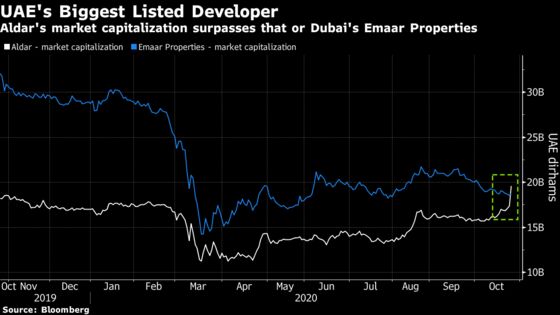 "We guided the market on our fee-based business already to increase to about 150 million dirhams per annum," Chief Financial Officer Greg Fewer said in an interview on Monday. "That was prior to this to this MoU being signed. On conclusion, we can see that business line tripling."
Aldar climbed as much as 15% to close at 2.54 dirhams, the highest level since early 2017. The rally lifted the company's market value to about 20 billion dirhams, taking it past Burj Khalifa developer Emaar Properties PJSC.
The partnership "is likely to help the company strengthen its developments as well as investment portfolio," said Harshjit Oza, head of research at Abu Dhabi-based Shuaa Securities LLC. "Abu Dhabi's support has continued to benefit Aldar and we believe this is the biggest catalyst for the stock."
The company expects more government projects to come its way, Fewer said. Aldar's current pipeline of work should be completed in the next five years and will have a "standard" profit margin in the "low single digits," he added.
Much of the United Arab Emirates has been struggling with excess supply in the real estate market, a glut compounded by job losses that are pushing the largely expatriate population out. Although oversupply in Abu Dhabi is less severe than in Dubai, there have been concerns around prospects for growth.

As part of its efforts to diversify, Aldar has been investing in a fee-based, development management division to manage buildings for clients. The government is the company's biggest and Aldar has a deal to build more than 25,000 homes for Emirati citizens along with related infrastructure.