Emerging Markets Beware: A Recent History of BofAML's Most-Crowded Trades
(Bloomberg) -- The most popular trade in global markets is now long emerging markets –- contrarians should prick up their ears.
A quick glance at the recent history of the "most-crowded" trades section in Bank of America Merrill Lynch's survey of global fund managers shows an asset's popularity can often peak just before a fall in price. Here's a look at the last four instances of such trades in reverse chronological order: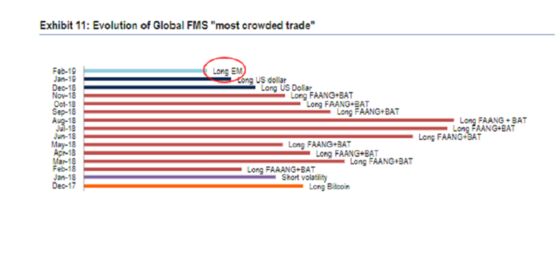 In December 2017, digital currencies were going parabolic with Bitcoin almost doubling in the first two weeks of the month. The world's largest digital coin, which had briefly held the most-crowded spot that September, roared back to retake the crown. As we now know, it peaked that month just below $20,000 before beginning its precipitous decline, and is now down about 80 percent from its high.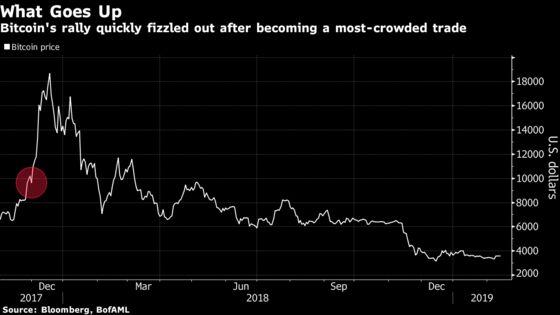 The unprecedented calm in markets in 2017 when "synchronized global growth" was a common refrain among fund managers perhaps lulled them into a false sense of security. Short volatility became the most-crowded trade in January 2018. Then February happened and the Cboe Volatility Index jumped by a record 20 points to a level that hadn't been seen in years. The ensuing "Volmageddon" saw the collapse of one of the most popular recent trades in financial market history.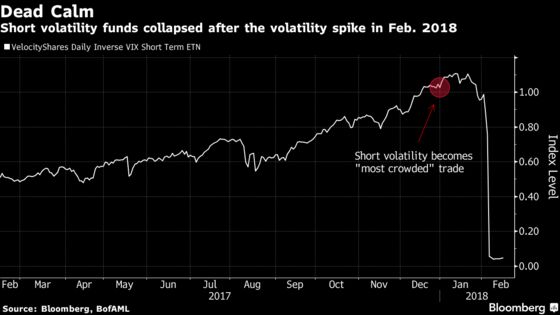 Eight U.S. and Chinese technology megacaps dominated much market discussion in 2018 -- as they led a post- "Volmageddon" recovery, it seemed you were either long or you were wrong. Buying the FAANG stocks -- Facebook Inc., Amazon.com Inc., Apple Inc., Netflix Inc. and Google's owner, Alphabet Inc. -- in addition to China's Baidu Inc., Alibaba Group Holding Ltd. and Tencent Holdings Ltd., known as the BAT stocks, became the most-crowded trade in February and held the top spot for 10 straight months. It was mixed ride for much of that period with the NYFANG Index finishing the year little changed.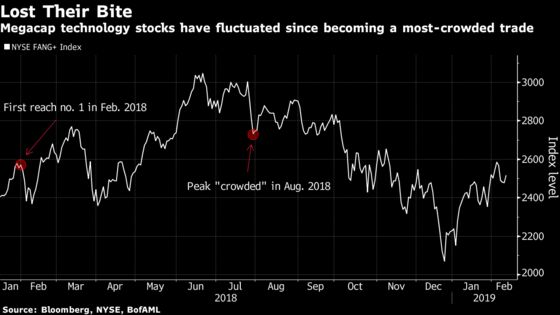 Before EM, the previous holder of the top spot was the mighty greenback, in an unusual case where fund managers disagreed with strategists. In a month where 2019 outlooks were hitting printers around the world, and sell-side consensus seemed bearish, fund managers chose long the dollar as their most crowded trade in December. The Bloomberg Dollar Spot Index has fallen about 1 percent since, though an eight-day rally which ended Tuesday does have analysts questioning their bearish bias, as central banks around the world take heed after the Federal Reserve's dovish pivot.