ECB's Praet Says Oil-Price Slump Positive for Europe Economy
"The recent evolution in oil prices -- if it's sustained -- is a positive development for Europe," Executive Board member Peter Praet said in Brussels on Thursday. "It's a relief" for consumers.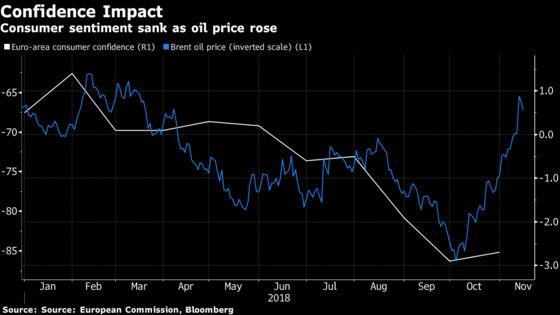 Brent crude has lost more than 20 percent of its value since early October -- most of which is due to weaker demand amid slowing global growth, according to Bloomberg Economics. Euro-area consumers have been losing confidence, and the bloc's third-quarter expansion was the weakest in more than four years.
"The slowdown or even correction in oil prices brings some relief in the outlook, because it's true that dark clouds were starting to increase," Praet said.
What Our Economists Say
"We estimate that weaker demand was responsible for 85% of the decline. Both OPEC and the International Energy Agency have lowered their forecasts for the growth in oil demand next year. They cited a slowing global economy, caused by rising trade tensions, higher interest rates and turmoil in emerging markets."
-- Ziad Daoud and Jamie Murray, Bloomberg Economics
Praet is about to prepare updated economic projections for the ECB's final policy meeting of the year on Dec. 13, when the Governing Council will decide whether to stick to its plans to cap its quantitative-easing program. Those forecasts will depend significantly on the strength of domestic demand as trade is weighed down by protectionism.
Further clues to sentiment among policy makers may come on Friday, when ECB President Mario Draghi and his frequent opponent in the stimulus debate, Bundesbank President Jens Weidmann, both speak at a conference in Frankfurt.
Domestic demand in the euro area remains "robust" and the German economy, which contracted last quarter for the first time since 2015, should rebound, Praet said. He also cited data showing exports orders are "stabilizing."
Still, the drop in oil prices complicates the outlook for inflation, the key metric the ECB uses for judging when it can pare back stimulus.
Praet said price pressures are building on the back of declining unemployment and rising wages. The ECB tends to look through temporary fluctuations in energy prices, though even underlying inflation is subdued.
He stressed that the central bank's multiple measures, including record-low interest rates and the reinvestment of maturing bond holdings, mean policy will stay loose.
"Monetary policy needs to be accommodative," Praet said. Normalization "is not tightening."